As China is attaching more and more importance to building an education system which comprehensively fosters students' all-round moral, intellectual, physical and artistic grounding and a hard-working spirit, labor education is to be included in the compulsory curriculum, revealed the relevant person from the Ministry of Education.
In labor education, the West Campus of Jianping Middle School in Shanghai has set a good example with its creative and interesting courses.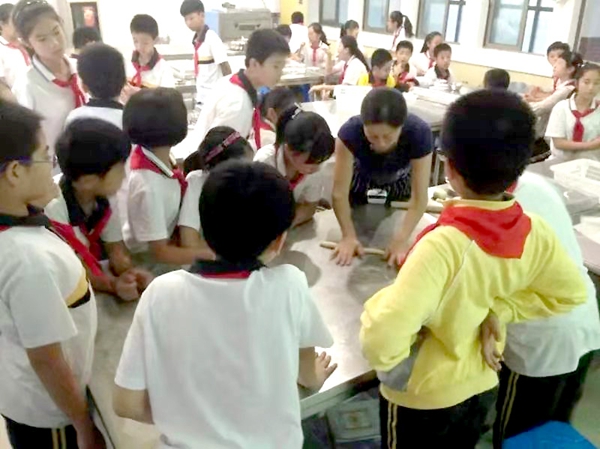 A teacher teaches students how to roll out dough in a labor education class. [Photo/ www.shobserver.com]
Besides the usual public welfare labor practices, fun courses like changing fuses, woodworking and baking cakes are also arranged for teenagers.
Moreover, in labor education, the school has also set different subject goals for different grades. For the preparatory grade students, through crafting and baking, they should master a series of baking steps including stirring of ingredients, relaxing the flour, shaping the dough and cleaning the baking pans and molds. Students of grade one must grasp the use of manual saws and woodworking motor beds, and be able to identify and draw flowcharts. And after learning about electronics and the work of electricians, students from grade two must know how to design and make simple circuits.
Such kind of accessible courses also include aeromodelling, ship modelling, hand-made floral art, traditional Chinese embroidery, cross-stitching, sewing and wool knitting. They are based on students' daily life needs and aim to cultivate the youngsters' labor spirit and hands-on skills.
In addition, in the school's assessment system, the ability to do housework such as cooking is attached the same weight as paper test scores.
"The core of labor education is to cultivate a hard-working quality and make them respect, love, be diligent in and good at labor. In the future, our school will set up an interactive model in labor education involving school, family, society, and educators themselves," said Zhao Zhihao, principal of the West Campus of Jianping Middle School.