To further enhance the influence of the tourist attractions of Hunan, a central China province, to those living in the Yangtze River Delta region, a promotion was held in Shanghai from December 14 to 16, announcing that many scenic spots will be free or give discounts to visitors.
In recent years, with the opening of the Beijing-Hong Kong and Shanghai-Kunming high-speed rail routes, the economic and cultural interaction between Hunan and the Yangtze River Delta urban agglomeration has become increasingly close.
With the Qianjiang-Zhangjiajie-Changde Railway to be launched on December 26, more tourists are expected to flock to Zhangjiajie, a picturesque must-go place with dozens of prominent sights. To this end, the tourist department in Wulingyuan Core Scenic Area, Tianmen Mountain Scenic Area, Grand Canyon Scenic Area and Zhangjiajie West Line Scenic Area have especially carried out a free sight-seeing ticket scheme for those travelling on the first special tourist high speed train to Zhangjiajie.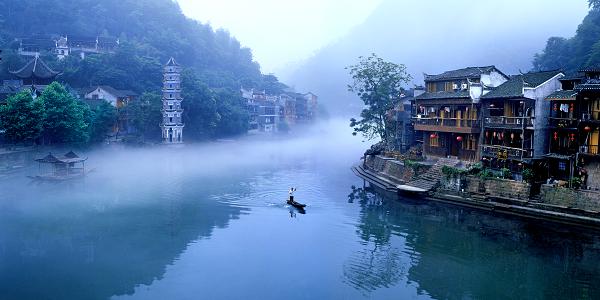 Fenghuang Ancient City in Xiangxi Tujia and the Miao Autonomous Prefecture, southwest of Hunan Province. [Photo/ newsxmwb.xinmin.cn]
In addition to this, Zhangjiajie, whose winter tourism is focused on snowy scenery, hot springs spas, skating and folk customs appreciation, also announced its winter tourism products, which contain 10 themed activities and 6 reward or discount policies.
Other cities like Changsha, Xiangxi, Zhuzhou, Huaihua and Xiangtan have also initiated discounts in spots, hotels and agritainment.