In a new exhibition, wrinkled faces indicate the vicissitudes of the Holocaust survivors, and their heart-wrenching stories reveal the deep scars left by the most traumatic of experiences imaginable.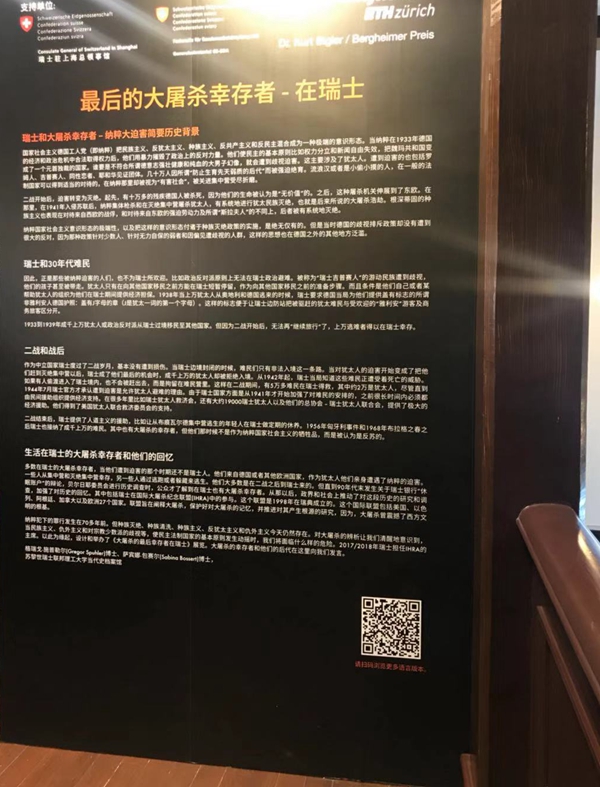 Entitled "The Last Swiss Holocaust Survivors", the exhibition is being held at the Shanghai Jewish Refugees Museum, a museum which displays the history of Shanghai's acceptance of 30,000 Jewish refugees from 1933 to 1941. Shanghai is the first Chinese stop for the exhibition after having been presented in Switzerland, the United States, Germany, Singapore, Albania, Israel and Italy.
Through displaying portraits of Swiss Holocaust Survivors and their recollections of their suffering, the exhibition aims to warn people of the dangers of racism, anti-Semitism and fascism and to deepen their understanding of "a community of shared future for mankind".
Jointly organized by the Switzerland Gamaraal Foundation and the Archives of Contemporary History of the Swiss Federal Institute of Technology in Zurich, the exhibition was first launched in 2017 and was mainly aimed at the younger generation, emphasizing the importance of tolerance.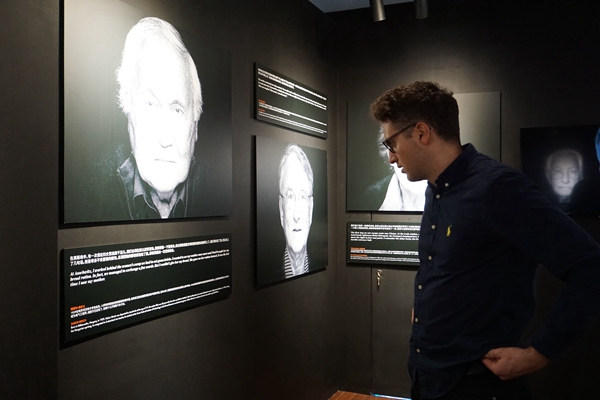 Dan Sharell from the Switzerland Gamaraal Foundation visits the exhibition. [Photo/ Eastday]
"For a long time, few people have heard the survivors. Many of the survivors have long been unable or unwilling to talk about the catastrophe. Listening to their accounts is an important part of the study of the history of the Holocaust, which is a common task facing researchers, victims, persecutors and spectators," said Dr. Gregor Spuhler of the Archives.
For Dan, a Frenchman working for the Switzerland Gamaraal Foundation, this exhibition is of special connection to himself, coming from a Jewish family.
Dan introduced that part of his family successfully fled to South America, and of the other part who stayed in France, only his grandma survived. "Because my grandma was at the market when they came to the family home and took away the rest of the family," recalled Dan sorrowfully. "Feeling sorry is not even enough to describe it. You just know the fact of what happened, but you don't know why."
Sara Imas, a Shanghai writer who is also a descendant of Jewish refugees who fled to Shanghai, said in an interview, "Besides recalling the pains of the past, this exhibition evokes people's conscience and makes people even more grateful for the good life today."