Mr. Gou has been working with the blind massage industry for 22 years. When he enters the room as usual to begin his work, an AI smart device helps him turn on the light and close the curtain. It can also remind him of the time thanks to its timing function, relieving Gou of the trouble of using a talking clock.
AI is now helping many blind or partially-sighted masseurs like Gou.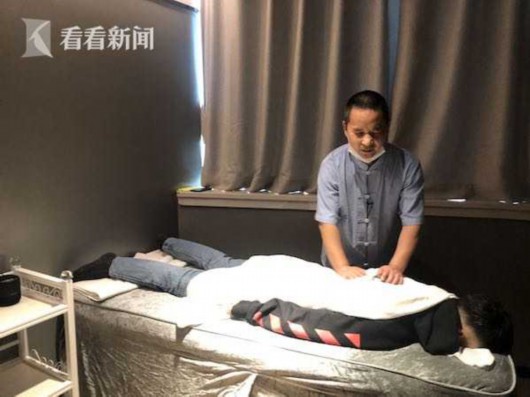 (Photo/Kankanews.com)
In addition, AI smart devices can also play music according to a customer's taste.. Mr. Wang who came to Mr. Guo's massage parlor was very satisfied."The introduction of AI devices offers more convenience to the blind. The most direct benefit for customers is that we can listen to music as we like during the massage. That makes the atmosphere very comfortable."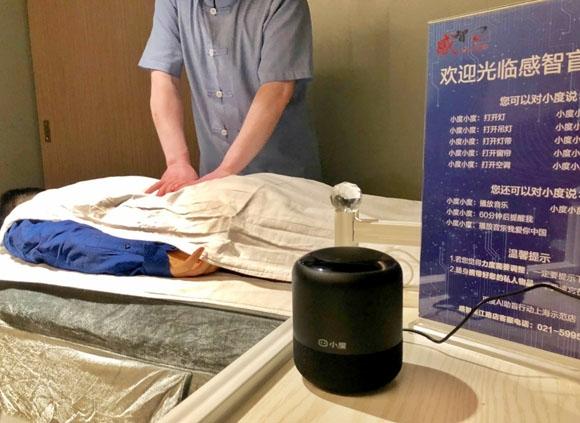 (The AI device in the parlor. Photo/whb.cn)
During the break, masseurs can also enjoy broadcasts on demand via the AI devices, as a method of staying updated with the outside world and enriching their minds.
The parlor Mr. Gou works at is one of the 17 AI-aided blind massage stores in the city of Shanghai, with around 350 professional blind massage practitioners. Caring about the living conditions of the blind people in China, Huang Yongqiang, founder of the AI-aided blind massage store, is determined to make the blind massage industry prosper, so as to help more visually impaired people regain their confidence and self-esteem in life.
Being a masseur is the main employment channel for the blind population. In some cities, the number of blind masseurs even accounts for 96% of the total number of blind citizens. If the working environment of blind massage parlors can be effectively improved, it will be of great help for the blind community.