Working together with Chinese chefs, the chef team from Le Cordon Bleu Shanghai displayed their artisanship at a Sino-French culinary cultural exchange event this week.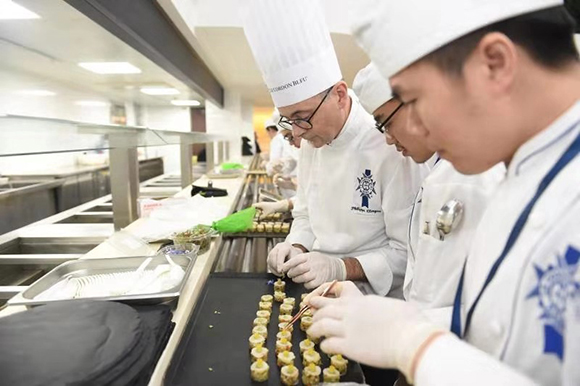 The event held at the Shanghai Museum was a fusion of Chinese and French food culture. Working together with local chefs, French chefs led by Philippe Groult cooked a wide range of Jiangnan food including traditional Shanghai dishes, kumquat beef, prawn tails, fried perch with chrysanthemum, and Jiangnan snacks.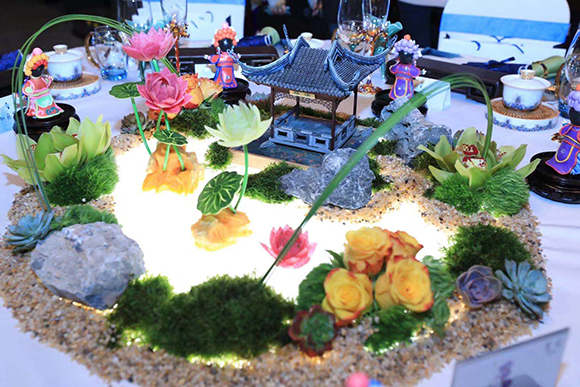 The masters combined the classics and creativity of both countries in food ingredients, tastes, artistic presentation, and food connotations, giving full play to the characteristics of Chinese Jiangnan and French cuisines.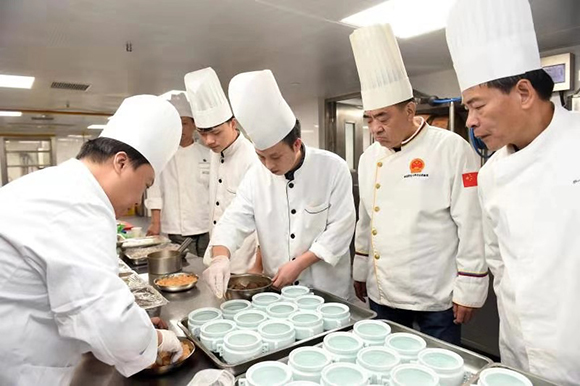 Not only the delicate dishes but also the culinary set showcased the fusion of Chinese and French culture. The champagne glasses and beverage cups were decorated with the two country's national flowers: the Chinese peony and French iris, symbolizing the Sino-French friendship.
The tables were also decorated with a Chinese intangible cultural heritage technique: dough figurines. Using humble flour and a few simple tools, An Bin, a high-level Chinese technician, crafted a batch of colorful and adorable "fingertip artworks".
At the event, Zhao Lei, a young Chinese artist, also played the erhu (a two-stringed bowed musical instrument), allowing the attendees to enjoy both a taste and acoustic experience.