Consumption is a vital way to understand the regional economy of Shanghai. This year, various stores have opened in Shanghai, most of which have reaped success due to providing the consumers with exactly what they want in the most convenient way.
A night market in Shanghai. [Photo/shobserver.com]
Located in the Caojiadu commercial district of Jing'an District, CNSC Shanghai Duty Free Shop is one of those success stories.
As the only duty-free shop in central Shanghai that is open to Chinese consumers, this year, its annual consumption has increased by more than 20% and the number of customers has exceeded 1 million. Consumers are often seen filling their shopping baskets with piles of items there.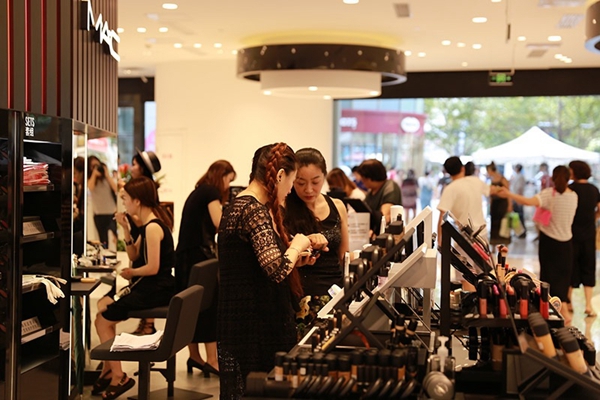 People choose goods in CNSC Shanghai Duty Free Shop. [Photo/ shobserver.com]
Interestingly, besides the general popular goods like cosmetics and chocolates, daily necessities like Korean shampoos and Japanese detergents have also been snapped up. "The daily necessities sold here are of good quality and not expensive, and each time I come here I will buy some," said a woman.
Actually, even when Shanghai people travel overseas, what they buy now are usually not luxury goods but necessities.
It was after noting this trend that the CNSC Shanghai Duty Free Shop carried out a different operational strategy from general shops-- introducing a range of products from high to low that satisfy this demand for daily necessities.
With Japanese products being one of the most sought after, the shop has not only increased the sales area of imported daily necessities this year, but especially added an area mainly selling daily necessities from Japan.
"Currently we have lots of regular customers every day who treat our duty-free shop as a daily shopping place for anything they lack in their daily life," said the manager of the shop.