No matter whether you are in Xujiahui of Shanghai or on the shores of Jinji Lake in Suzhou, the hens you buy are likely to come from Xuancheng of Anhui province, which sells 150 million livestock to Shanghai, Jiangsu and Zhejiang each day.
As an important agricultural production area in the Yangtze River Delta, Anhui has been supplying agricultural products to its neighbouring cities for decades. The Anhui Quality Agricultural Products and Agricultural Industrialization Fair has been held in Shanghai for 19 years where citizens scramble for good-quality natural products from the land flowing with milk and honey.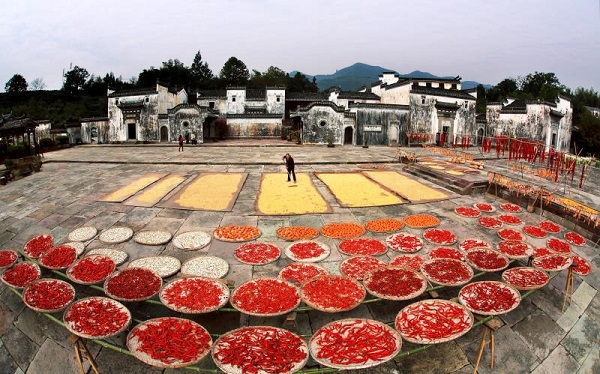 Agricultural products bask in front of farmers' house in Anhui. [Photo/ newsxmwb.xinmin.cn]
This year's fair runs from December 20 to 23 and is to be held in the Shanghai Everbright Convention & Exhibition Center. More than 2500 kinds of agricultural products in 12 categories will be accessible for Shanghai residents to choose for their new year meals.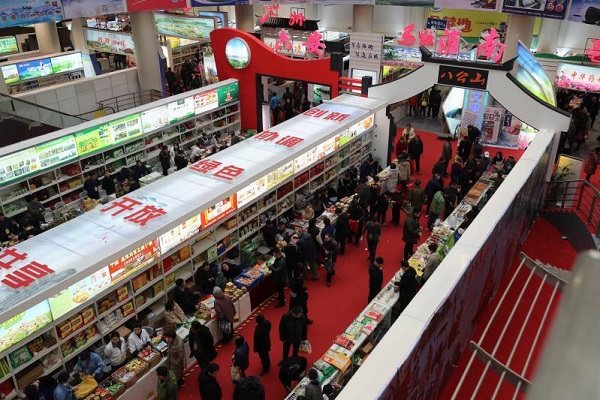 People visit the Anhui Quality Agricultural Products and Agricultural Industrialization Fair. [Photo/ newsxmwb.xinmin.cn]
At a press conference held on December 17, Wang Hua, deputy director of the Department of Agriculture and Rural Affairs of Anhui Province, introduced that over recent years products from the province have been of a greater variety, higher quality and had more exquisite packaging, leading to great sales growth.. "On-site sales volume in the year of 2000 was only over one million yuan, and last year it exceeded 30 million yuan. This year, it is expected to exceed 40 million yuan," said Wang.
Preliminary statistics show that about 30% of Anhui's high-quality primary processed grain and oil products are currently sold to Shanghai, Jiangsu and Zhejiang, and the sales volume of processed foods using agricultural and sideline products has reached 300 billion yuan.
The fair has allowed Anhui agriculture businesses to enjoy sustainable development in Shanghai and more and more Shanghai companies are eyeing opportunities in Anhui and investing in its agriculture industry.