Traditional Chinese medicine (TCM) is not only a treasure of ancient Chinese civilization, but also provides recipes which can benefit the mankind. Driven by the Belt and Road Initiative, Chinese medicine has become more accessible to the world. In many parts of Africa, people ranging from ordinary citizens to government officials have experienced the charm of TCM. In their eyes, tuina massage is efficacious as "Chinese kung fu"; they believe in the functionality of acupuncture; and they are no stranger to Chinese herbal medicine.
Among the Chinese doctors in Africa are TCM experts from Yueyang Hospital of Integrated Traditional Chinese and Western Medicine Affiliated to Shanghai University of Traditional Chinese Medicine (hereinafter referred to as Yueyang Hospital). While curing local patients, they've also contributed their efforts in opening TCM centers in the locality.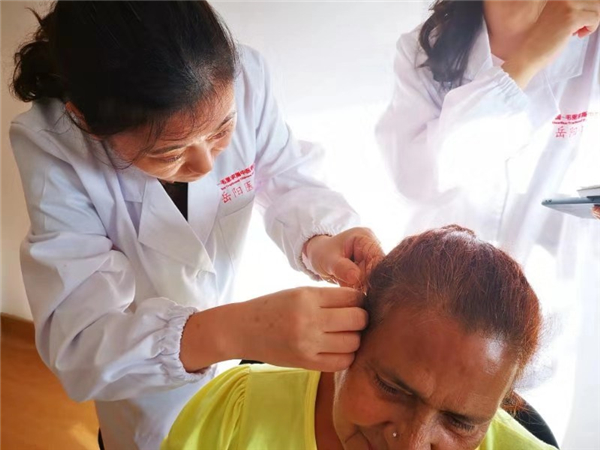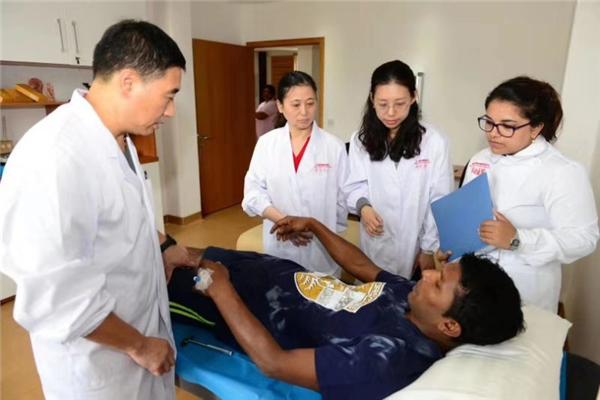 (Shanghai doctors treat patients in Africa)
China-Mauritius TCM Center
As Mark Twain said, "Mauritius was made first, and then heaven; and that heaven was copied after Mauritius." Now in Mauritius, the "heaven on earth", a seed of TCM has been planted, as the China-Mauritius Center for Traditional Chinese Medicine was opened officially at the City Clinic on December 9, 2019. It is the first TCM clinic operating at a significant scale in Mauritius. Western medicine, Indian medicine and TCM have thus begun to coexist in the local medical system.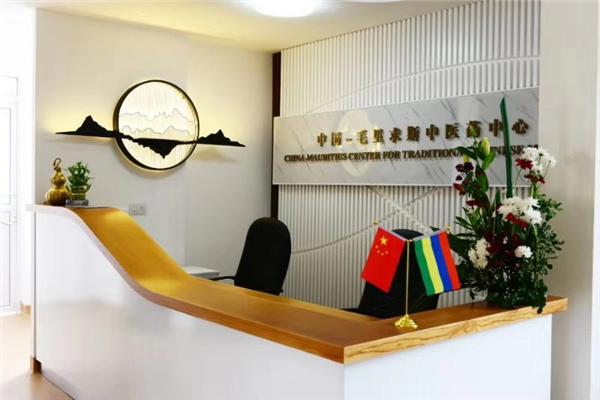 (The reception counter of the China-Mauritius Center for Traditional Chinese Medicine)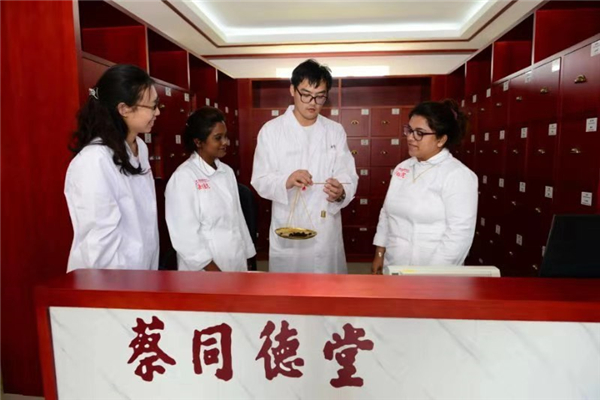 (The TCM pharmacist explains prescriptions to his colleagues)
Different from other TCM centers in foreign countries, the China-Mauritius Center for Traditional Chinese Medicine was jointly established by Yueyang Hospital and a time-honored Shanghai-based TCM company, Shanghai Caitongde Pharmacy, providing TCM prescriptions as well as herbal soup-making services for local people. For the sake of convenience, the herbal soup is packaged in bags with nozzles.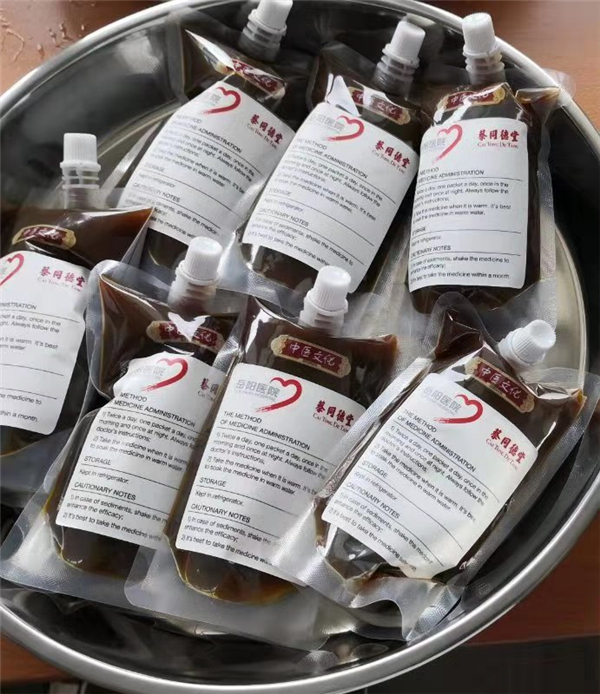 (Packaged herbal soup)
According to Dr. Zhou Jia, president of Yueyang Hospital, TCM centers built in other countries are generally promoting non-drug therapies like acupuncture. However, as a matter of fact, drug therapies play a major part in TCM. Though in the US and EU, there are still challenges for TCM to enter local markets, TCM can access Mauritius' market in a legal way. Taking advantage of this, Caitongde's decoctions and herbal soups have been introduced smoothly to Mauritius. Yueyang Hospital and Caitongde have staffed two experienced TCM doctors and one TCM pharmacist at the center to offer acupuncture, tuina massage and TCM prescriptions. In this way, TCM culture can be promoted in more forms.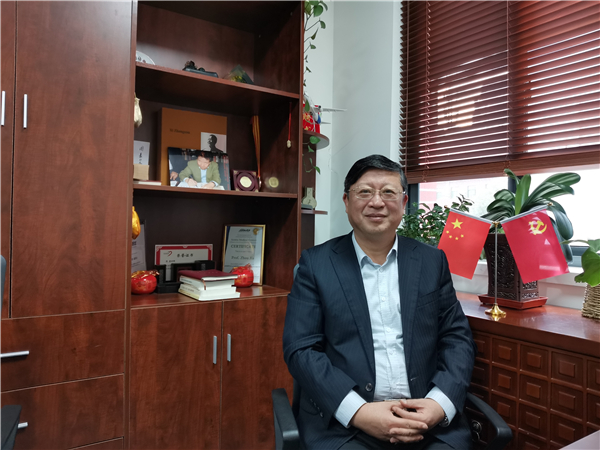 (Dr. Zhou Jia, president of Yueyang Hospital)
As of December 23, the center has been open for two weeks. As Dr. Zhou told us, the reservations for acupuncture and tuina massage have been filled for the next three weeks. The doctors are not off work until 6 pm each day. The TCM Decoction Room is also busy. Delighted with the good start of the center, Zhou said he wants to explore a new way of running a TCM center and show authentic TCM to the Mauritians.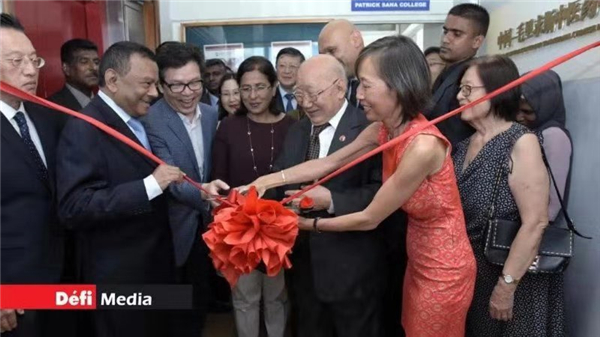 (Launch ceremony of the TCM center in Mauritius)
Considering local people are susceptible to metabolic diseases (like obesity, diabetes, and hypertension) due to the consumption of sugar cane, and skin diseases due to the country's tropical climate, with incredible sunshine and much rainfall, Yueyang Hospital dispatched two doctors who are good at treating diabetes, hypertension and skin diseases, so as to offer targeted services.
For the next step, doctors in the center will work with City Clinic to carry out TCM training and other educational projects in a local nursing school, according to Dr. Zhou.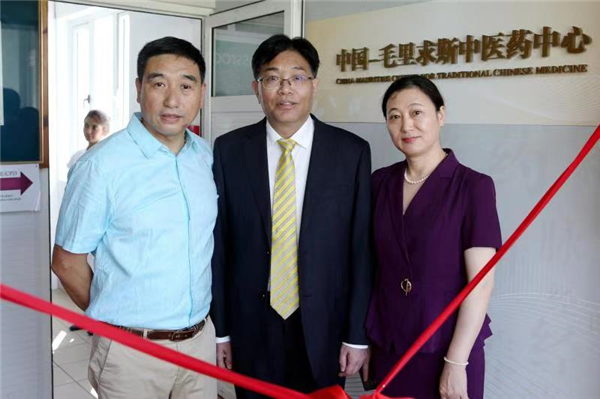 (Cao Xikang (middle), Party secretary of the Shanghai University of Traditional Chinese Medicine; TCM doctors Hu Binglin (left) and Wang Xiaosu (right))
Mauritius: "bridgehead" of TCM promotion in Africa & Europe
The establishment of the TCM center has gained much support in Mauritius. As Dr. Zhou explained, one reason is that Mauritius has been a friendly country to China. In addition, TCM enjoys a fanbase in the country. On June 6, 2019, Zhou and Chairman of City Clinic Patrick Chui Wan Cheong had a meeting with the President, Deputy Prime Minister and Minister of Commerce of Mauritius. Through their conversation, Zhou learned that TCM is popular among the local people and they are interested in the traditional medicine. Even the Minister of Commerce of Mauritius himself is a fan of TCM. Once he had a fever, he went to Chinatown to buy heat-dissipating Chinese medicine to be used in soup.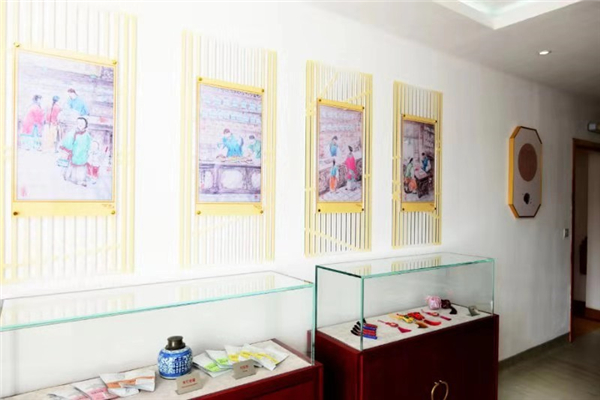 (TCM culture exhibition in the center)
On the other hand, the local Chinese individuals and organizations in Mauritius provide a strong backing. Most board members of City Clinic are Chinese, and the chairman, Patrick Chui Wan Cheong, is a 92-year-old Chinese whose lifelong aspiration is to promote TCM in Mauritius. Dr. Cheong went to Mauritius with his father at the age of three and then started his own business in the country. As a doctor himself, he wants more people to enjoy the benefit of TCM treatment.
Another supporter is Ms. Huang, who married a local man when she was in her twenties. With a special affection to her hometown Shanghai, she is excited to see Shanghai doctors in Mauritius. Now she often sends dishes to them free of charge.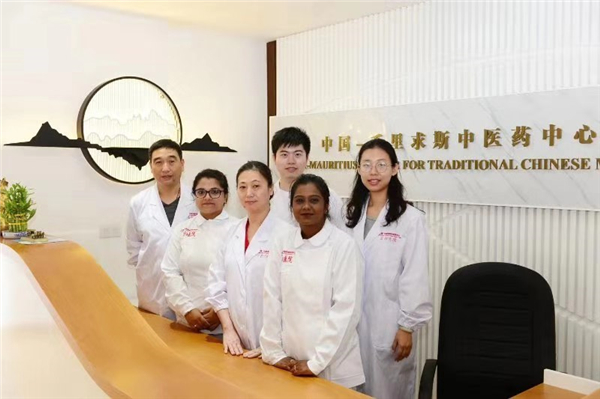 (Four of the staff are from Shanghai)
As a transportation hub along the 21st century Maritime Silk Road, Mauritius provides passage from Asia to Europe. As a BRI cooperative project under the National Administration of Traditional Chinese Medicine, the China-Mauritius Center for Traditional Chinese Medicine has carried the hope of TCM practitioners. In Dr. Zhou's belief, Mauritius is a perfect soil for the promotion of TCM and the "fruits" will come out soon.
Though his expertise is Western medicine, Dr. Zhou is confident in Chinese medicine, which can be traced to ancient China. "TCM has existed for 5,000 years, benefiting 1.4 billion people. China has never seen a large plague in its history. This is the charm of Chinese medicine." As he said, Mauritius will become a "bridgehead" of TCM promotion in Africa and then in Europe. "As Chinese herbal medicine is yet to be recognized by the EU, we hope to prove its efficacy through a large number of clinical practice."
Docteur Chinois, mon ami
When it comes to promoting TCM in Africa, Yueyang Hospital has been leading the cause for more than two decades. Starting from 1981, it has sent 16 TCM doctors in 12 batches, to provide medical assistance to Morocco. Since the Mohammedia Medical Team was formed in 1986, the Shanghai University of Traditional Chinese Medicine has been responsible for the dispatch of doctors. Many at Yueyang Hospital have successively served as team captains to Mohammedia.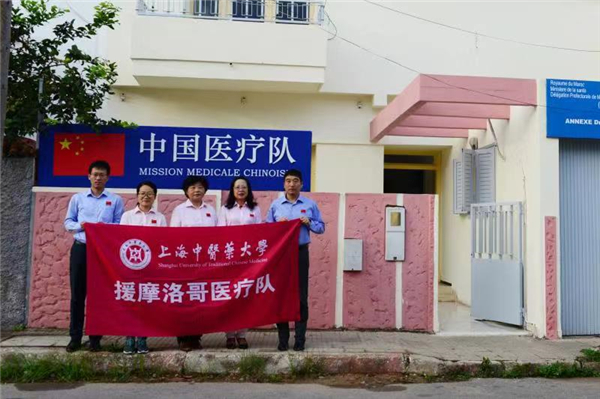 (A group photo of the 16th Mohammedia Medical Team)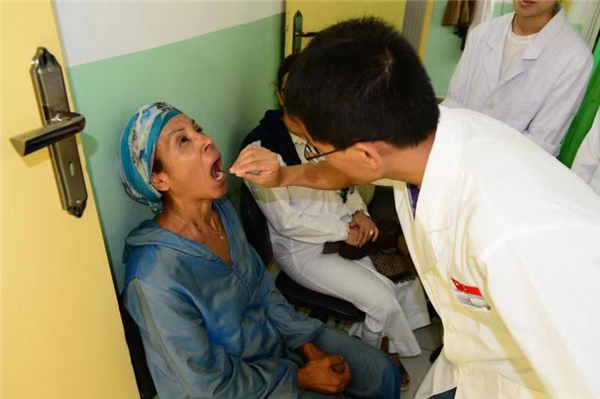 (Dr. Li from Yueyang Hospital performs tongue acupuncture therapy)
(Shanghai doctor Hu Binglin in Morocco)
The Mohammedia Medical Team is the only one in Morocco specializing in acupuncture and tuina massage. Over their two-year assignment, Chinese doctors have to overcome various difficulties, in transportation, diet, communications and medical device availability. In spite of that, the medical team won the respect of African people by their professionalism and dedication to work.
As many Moroccans suffer from rheumatism and arthritis, they demand more acupuncture points in their body. According to Dr. Hu Binglin, captain of the 16th Mohammedia Medical Team from 2016-2018, the needles they used over those two years from head to tail exceed 5 kilometers.
While working in Morocco, Hu came upon a little girl who could hardly open her mouth. Local doctors diagnosed her with temporomandibular joint disorder and said she needed surgery to recover. The girl's mother turned to the Chinese medical team for help. After feeling the girl's cervical spine, Hu found the cause was a dislocation in the first segment of the cervical spine. With the consent of her mother, Hu reset it with tuina massage. Later, when the daughter came to see Dr. Hu again, they encountered a media interview. The mother told the media in English how her daughter avoided an operation thanks to Chinese doctors' help. From then on, the local people have been excited when greeting the medical team members, saying in French: "Docteur Chinois, mon ami."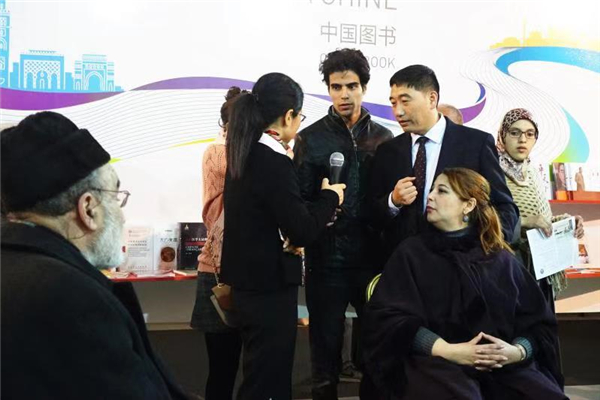 (Dr. Hu introduces TCM culture and tuina massage in Casablanca)
The medical team also made contributions to Yueyang Hospital's cooperation with Mohammed V University and the University of Hassan II Casablanca, laying the foundation for the building of a TCM Center in Morocco.
In November 2018, Hu Binglin completed his mission in Morocco and flew back to Shanghai. Now, he is in Mauritius, working for the China-Mauritius Center for Traditional Chinese Medicine and bringing health to more African people.
(Photos provided by Yueyang Hospital)