The first Spring Festival Shopping Festival featuring fashionable cultural and creative products opened recently in Shanghai's World Expo Museum, gathering more than 500 products from almost 100 brands.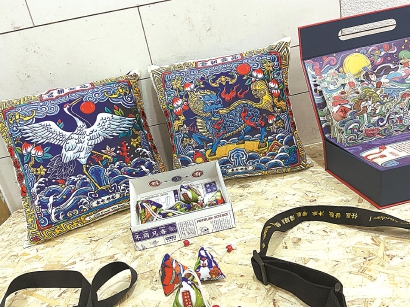 Over 300 designers' brainstorms created these innovative red envelopes, calendars and Chinese couplets which all contain traditional Chinese cultural elements such as the solar terms paintings, woodcuttings and folklore images like the moon rabbit and phoenix.
Moreover, even tabletop game toys, pokers and stickers are full of both traditional and modern elements. For instance, on a set of pokers, the door gods image have been simplified and redeveloped into a decorative painting, making them more approachable.
Tea products, snacks, cosmetics and furniture are also presented with the festive atmosphere of the Spring Festival.
Visitors can also have the opportunity to color by themselves and finish the last step of creating a New Year picture before bringing it home.
According to Ruan Hongjie, one of the curators, this is a concentrated showcase of cultural and creative products by Chinese designers at home and abroad in Shanghai. Works conveying local wisdom, international vision, and aesthetics of life are the aspects he especially attached importance to when deciding which products to invite.
"I hope that these creative works highlighting traditional culture will make more people learn about Chinese New Year's culture," said Ruan.