The ninth edition of the EF English Proficiency Index was released at a press conference in Shanghai recently.
The report analyzed the results of 2.3 million adults who took the EF SET tests in 2018 to show how and where English proficiency is developing around the world.
For the first time, China has improved from a low efficiency level to a medium one, ranking 40th in all the surveyed countries and regions. Shanghai has topped the list among all Chinese cities for six years in a row.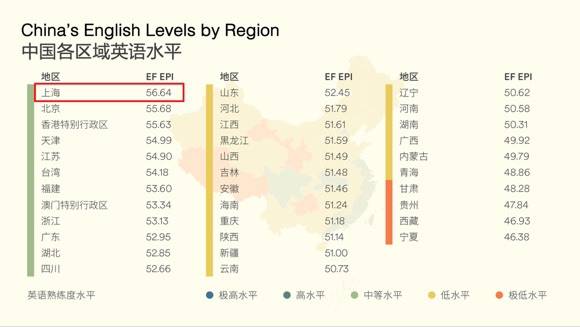 (Shanghai has ranked first for six years in English proficiency)
At the conference, EF China General Manager Erin McClure shared her view, "The improvement of the Chinese people's proficiency in English is closely related to the desire of the Chinese people to understand the world, and tourism is an important way for people to explore the world and penetrate different cultures."
Data shows that over the past ten years, China's outbound tourism has continued to maintain double-digit growth, making China the world's largest outbound tourist source country and tourism consumer spending country.
Erin, who grew up on Rhode Island, had not had the opportunity to go abroad before she graduated from high school. In her opinion, 40 years' of reform and opening up in China has provided more and more people with the opportunity to travel abroad.
"In such an open environment, learning English well and seeing the vast world can not only improve knowledge, but also allow someone to become a messenger to spread the Chinese culture by telling Chinese stories when travelling," said the tourism enthusiast.