Over recent years, with the popularization of mobile Internet and the emergence of e-commerce platforms, China's countryside has been exploring the online supply chain of agricultural products, in an attempt to make more money for rural areas while further serving cities.
In 2017, online retail sales in rural areas already exceeded 1 trillion yuan (144 billion USD). However, the online retail sales of agri-products have been around 200 billion yuan over the recent years. The development of rural e-commerce is somewhat limited to taking urban area's industrial goods to the countryside if relying on traditional e-commerce platforms, which might lead to an imbalance between rural consumption and production, says the 2019 China Report on Rural Development through E-commerce.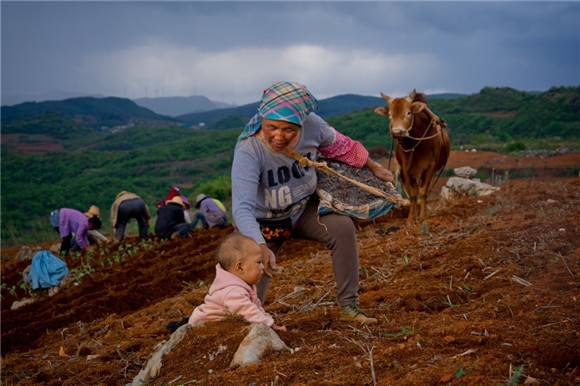 (Farmers in Qiubei County, Yunnan province, plant yacon seedlings. Photo by Mu Gong)
Since 2017, thanks to the emergence of mobile Internet platforms like Pingduoduo (an e-commerce platform allowing users to participate in group buying deals), Douyin and Kuaishou (China's top two short video apps), the Internet is playing a more important role in the rural area.
As the Report says, rural e-commerce has entered its second development phase, as agricultural products are sold through e-commerce. The business model is also shifting from traditional e-commerce to social and community e-commerce.
The report investigates the model of putting agri-products online through emerging e-commerce platform Pingduoduo. In 2018, as statistics show, the volume of orders of agricultural and subsidiary products on the platform reached 65.3 billion yuan, an increase of 233% year-on-year. It is also estimated that the volume in 2019 will surpass 120 billion yuan. As of the end of 2018, 140,000 merchants in China's poverty-stricken counties have registered on Pingduoduo, harvesting total purchase orders of 16.2 billion yuan annually.
As the report shows, as one of the biggest platforms for agri-product e-commerce, Pingduoduo has blazed a "fast lane" for scattered agri-products by integrating them online and selling them to 536 million consumers. Through the fast lane, Turpan's cantaloupe can be delivered to consumers' doorsteps in 48 hours from the orchard, at a lower price than on the wholesale market. Garlic, which is produced but is hard to sell in bulk in Zhongmou, a county in Henan province, now shows up in Beijing's grocery stores, at a mere 25% of the supermarket price. With the help of technology like AI and mobile Internet, the farmland has been connected to city's office buildings and residential areas, thus creating a sustainable poverty-alleviation mechanism.