A report released by the Shanghai Municipal Bureau of Ecology and Environment on January 16 shows that Shanghai has done well in controlling its air quality.
Data shows that in 2019, days with a fine Air Quality Index (AQI) were 309, among which 80 days enjoyed a perfect index. Days of light, moderate and heavy pollution levels respectively were 48 days, 7 days and 1 day. The only day with heavy pollution was in May, with ozone being the major pollutant.
(The distribution of days with different AQI in Shanghai in 2019)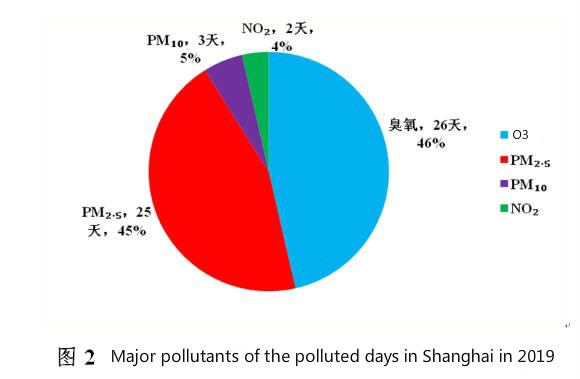 (Major pollutants of the polluted days in Shanghai in 2019)
Among the 56 polluted days, 26 days were mainly polluted by ozone, 25 days by PM 2.5 particles, and other days were mainly polluted by PM10 and NO2.
Vertical contrast shows that from 2013 to 2019, the annual average concentrations of four major pollutants-- PM2.5, PM 10, NO2 and SO2 in Shanghai's air, are all on the decline. Among them, the level of SO2 has reached the national first-level environmental protection standard for six consecutive years.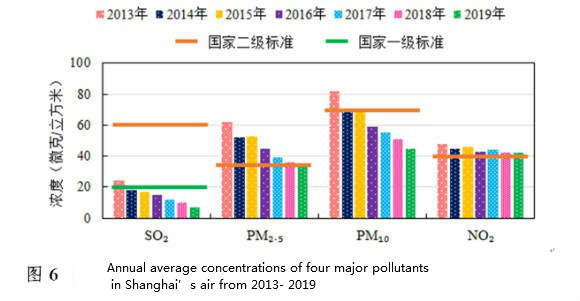 (Annual average concentrations of four major pollutants in Shanghai's air from 2013- 2019)
According to the bureau, such a good performance is owed to its continuous efforts in air management. In the past year, coal consumption reduction, ultra-low-emissions from the iron and steel industry and the increase of new energy vehicles, to name a few, have contributed to a brighter and cleaner sky over the city.