With the Chinese Spring Festival just around the corner, people are busy doing their new year shopping. Data released on January 15 by Fanli, Inc., China's leading e-commerce shopping guide platform, shows some new trends in Spring Festival purchases.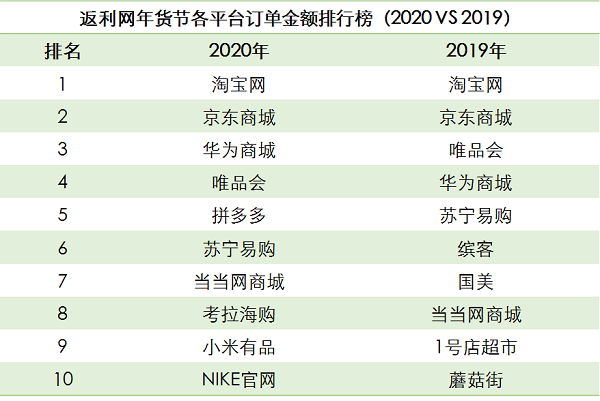 (Ranking of order revenue on e-commerce platforms)

From the perspective of order revenues, compared to the same time of last year, Taobao and JD.com are still ahead of other platforms this year. Huawei Mall ramped up to third place for the first time. Xiaomi Youpin and the Nike official website are listed respectively the ninth and the tenth.
This indicates that e-commerce platforms of many brands are becoming a money-drawing channel besides physical stores. The rise of online platforms of these domestic daily necessity brands also indicates more or less the popularity of domestic products and the booming trend of fashionable shoes in the past year.
In terms of the consumption structure, more and more consumers are willing to pay for knowledge and entertainment. The revenue of online learning and audio-visual entertainment has soared with a year-on-year increase of 3,213%.
For example, people registering as VIPs with Himalayan, a Chinese podcast app that streams audio episodes, have increased by more than 3,500% year-on-year. Registered orders of video streaming websites such as IQIYI, Youku, and Tencent have also seen significant increase. Knowledge payment and entertainment consumption have also become a new type of new year's goods, and spiritual consumption has become increasingly vigorous.
In addition, children's education and the elderly's health have also attracted more attention from people who are buying new year items. Statistics show that sales of children's toys rose 60.43% week-on-week, Lego orders increased 58.33% week-on-week, and smart early education devices increased 444% from last year. Online purchases of physical examination programs and drugs have increased by 170% and 135% year-on-year respectively.