As Tesla's Super Factory in Shanghai is operating in full swing, a local car manufacture, SAIC motor, formerly the Shanghai Automotive Industry Corporation, is having a go at expanding to other new foreign lands.
Enjoying a firm market share in emerging markets like Thailand and Indonesia, and also having reaped success in developed ones such as Australia and New Zealand, SAIC now is setting its sights on Europe, where Karl Benz invented the automobile.
At the end of 2018, when an SAIC Europe company was planned to be set up, the Netherlands and Norway were regarded as the best choices for settlement, since both countries have proposed quite aggressive fuel ban rules, which have contributed to the sales boom of electric cars.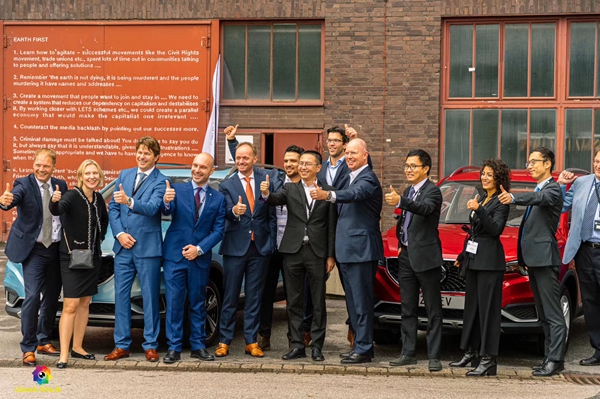 Staff of SAIC Europe pose for a group photo. [Photo/ newsxmwb.xinmin.cn]
The SAIC Europe company was finally established in Amsterdam in July 2019. Then 500 MG EZS, a pure electric vehicle type, were exported on September 28 to Europe from a Shanghai wharf, setting a record for the single shipment number for new energy vehicles in China. This car type received nearly 1,000 orders in less than two weeks after its launch in Europe on October 1.
Three months later, the surprisingly good performance of the MG EZS in the European New Car Assessment Program (Euro NCAP) crash test, known as "the world's most stringent automotive test", refreshed the European market's perception of Chinese cars again.
But for SAIC, these achievements are not unexpected, because after years of hard work, the company has established three overseas innovation R&D centers in Silicon Valley, Tel Aviv and London, to form a global model development capability.
"In the past, we did research and development based on domestic markets and made small changes before exporting to overseas. But now we rely on overseas innovation research and development centers to build global models, and adjust according to different market characteristics, therefore improving product competitiveness," said Zhao Aimin, a leader of SAIC.
MG, which came under SAIC ownership in 2007, was the representative of the "affordable sports car", according to Zhao. When MG returned to Europe 15 years after it left the European market, SAIC hoped to leave the impression of its MG EZS being the "approachable NEV" on European consumers.