Teachers these days are managing to win acclaim not only in class but also on short-video apps. At Douyin, one of China's top short-video apps, teaching has become the most respected profession.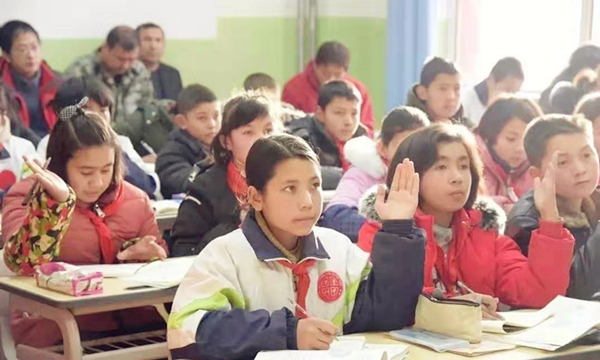 Last year, the number of likes of videos documenting teachers' work and daily lives on the app reached 620 million in total, according to a data report by Douyin. Nurses, fire fighters, traffic police and doctors are ranked in second to fifth place respectively.
One reason for teachers' popularity on the app is that the profession has been given more delicate expression in multiple dimensions through the form of short videos, according to some scholars. People's likes to those videos represent their understanding of, support for and expectation of teachers.
On the Teachers' Day of 2019, a video of a retired teacher from the University of Science &Technology Beijing, touched many people's hearts, even though there is no narration. With a thin figure, the elderly man steps into a group photo taken 25 years ago, when he was in the prime of his career. The video accumulated 200 million views and 2.19 million likes, with 55,000 comments. The main character of the video, Prof. Cang Daqiang, thus became well known.
"The teacher's hairstyle did not even change, except that his hair has turned grey," said a netizen.
Lu Jun, a Chinese-language teacher at an international school in Shanghai, was impressed by the video. Having worked in the profession for 32 years, she believed the video is not only heartwarming but also triggers fulfillment in many teachers. "Nowadays, lots of parents regard education as a top priority in the family, resulting in many requirements for teachers and high anticipation. Actually, to be a qualified teacher, we have to do a lot of work and undertake multiple pressure both physically and mentally."
Other videos of teachers also won much acclaim. A fine arts teacher from north-central China's Shaanxi province, using a box of colored chalks, can make painting-like drawings on the blackboard. Her video won 10 million likes. A Chinese-language teacher at a high school in Shaoxing (a city in Zhejiang) won 8 million likes for sharing her teaching story at school. A retired teacher, tutoring left-behind children for 19 years, won 7 million likes on Douyin. Though the teachers in the popular videos have different characteristics, one thing is the same: their devotion to teaching.