With the worldwide spread of the COVID-19, people coming to Shanghai from countries hit hard by the pandemic have to undergo a fourteen-day quarantine. In Zhangjiang, Pudong New Area, both Chinese and foreign residents are doing their bit in protecting the city they live in and combating the coronavirus.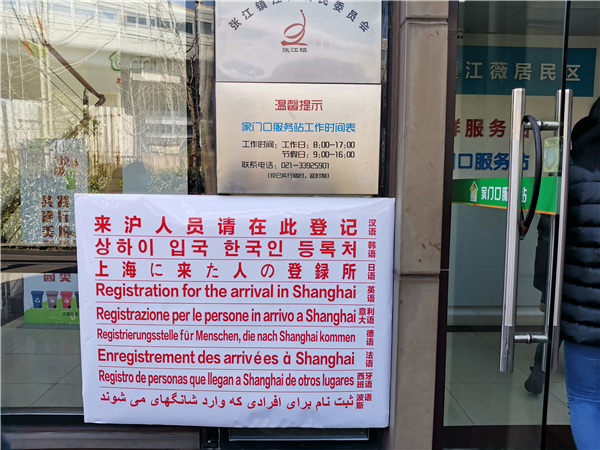 (A multilingual poster)
A volunteer couple
Recently, a couple came to Bibo Road Neighborhood Committee, volunteering to help the community workers. Lothar Sysk, a corporate executive from Germany, and his Chinese wife Yu, have been caring about the pandemic since the very beginning of its outbreak in Wuhan. Yu is a Wuhan native, and her younger sister and brother-in-law are both chief physicians fighting on the frontline in Wuhan. Her brother has also donated a lot of medical supplies and called on others to join him. In Shanghai, Lothar and Yu have also been moved by the ordinary workers in their own neighborhood, including the community physicians and cleaners.
"Since I like cooking, why not use my cooking technique to show my gratitude to all those fighting against the coronavirus, though it is a small thing?" Lothar thought to himself. After some discussion with his wife, he decided to make some German meatballs.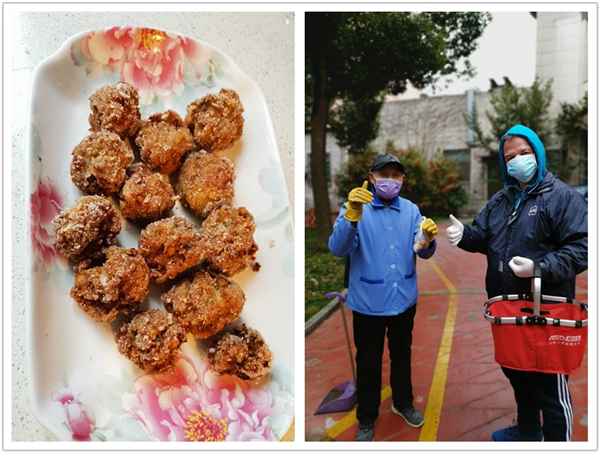 (Lothar sends meatballs to a cleaner.)
The couple bought the ingredients from the internet. The next day, Lothar spent 5-6 hours making the meatballs and sent them to the security guards, property management staff and cleaners in the residential area.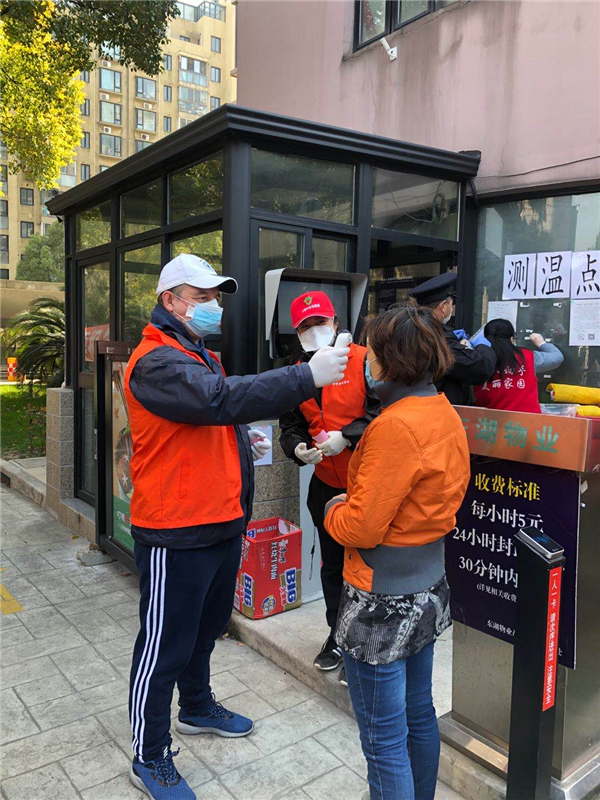 (Lothar on the left)
The next day, Lothar and his wife showed up at the gate of a residential area, with a forehead thermometer and entry passes in hand. The first time, Lothar volunteered for 1.5 hours, during which he could not drink water, take off his face mask or go to the washroom. Feeling how tiring the work is, he still wanted to continue his volunteer work so that the community staff could have a rest.
"Sometimes what we have done, however small it is, may give others energy and make them feel warm or happy. That is our purpose," said Lothar, who has been living in Shanghai for over a decade. "I also want to show my contribution to the country who gave me a place for living, place for work and a family."
Returning residents
"Good to be back," some foreign residents said to their neighborhood committee staff. Though some of them have to go through home quarantine for 14 days, they are always cared for. Shi Ying, who works in the City Classic neighborhood committee, is in charge of more than 3,000 households. As of March 15, 22 expats have been under home quarantine.
Each time Shi and her colleagues received a returnee, they formed a WeChat group, including the expat and their family or friend, for timely communication and response.
(A chat group in Shi Ying's WeChat)
"The expat families are very polite. They send us greetings every day. Many of them say that it is good to be back," said Shi with a happy smile. She said she can understand most of the messages with the help of the translation function of WeChat. "I will keep their messages. They are also a precious memory for me. After the epidemic is over, I'd like to invite these expat families to participate in our community's cultural activities."
Considerate and responsive translation team
"I never thought my major would come in handy at this time," said Sun Nana, who was a Korean major at college. She is a worker in the Tomson Beautiful Space neighborhood committee. Because of the COVID-19 outbreak, she was dispatched to a translation team in Zhangjiang government to help the South Korean residents.
Aside from translating materials and guidelines into the Korean language, she also has to record the residents' body temperatures twice a day and try to help them get over any difficulties in their daily lives.
Sometimes, Sun has to wear a protective outfit and goes to a quarantined expat's home with the community doctors, who check their body condition and ask them to sign a commitment letter of self-quarantine.
Sometimes, the translation team, especially males, has to be on standby for 24 hours a day to pick up returned expats from the airport.
Though some South Korean residents can speak Mandarin, they still rely on Sun to help them. Sun's presence may relive their anxiety to some extent as she can speak Korean. Once Sun received a call from a South Korean, who called to check whether she was on duty the next day and what he had to do after getting off the plane. "I will arrive in Shanghai tomorrow. Will you be at work?" the man asked. "Don't worry. I will be here," said Sun.
Kim Taeyon, a sophomore at Shanghai Jiao Tong University, came back to Shanghai from Seoul on March 2. On the first day of his arrival, he came across some hardship when getting back home, as his Mandarin is not very good. Then the community workers friended him via WeChat to keep in touch. Kim was told that he can contact the community workers and the translator any time he needs help. That was a relief to the young man. Also he has been cared for by his university. Having been parted from his Chinese girlfriend for almost two months, Kim said he wanted to see her once his 14-day quarantine was over.