As one of China's major partners in Europe, Serbia in recent days has been struck by COVID-19. On March 15, Serbian President Aleksandar Vucic declared a state of emergency in the country and asked China for help. In response, the first batch of medical aid from China has arrived in Serbia. At the same time, the country has also received non-governmental assistance from China. MLily, a zero-pressure mattress maker headquartered in Nantong, Jiangsu province, is one of the examples offering a helping hand.
The company decided to donate 1,000 medical protective suits and 50,000 surgical masks to the Serbian government on March 16.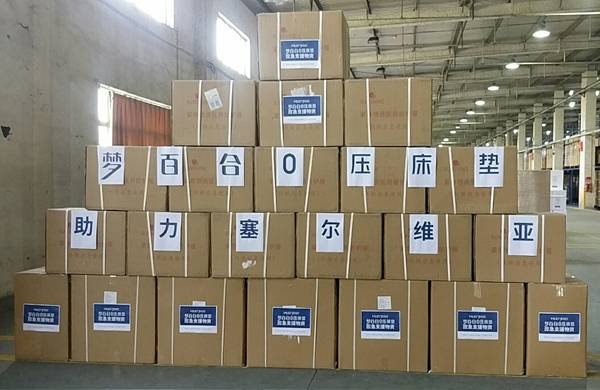 This is also the first time for MLily to send supplies abroad due to the coronavirus. Before that, it had donated 17,270 mattresses, 200 pillows and 688 protective medical suits to China's Hubei province.
A phrase frequently used by Serbian leaders is, "The friendship between Serbia and China is as strong as steel." MLily's friendship with Serbia began in 2014, when the company started to build a production base in Serbia. On June 28, 2015, the production base of MLliy Serbia was officially opened. Aleksandar Vucic, who was Serbian Prime Minister at that time, attended the opening ceremony, saying that the establishment of the MLliy Serbian production base was an important start of cooperation.
Now at a tough time in the global fight against COVID-19, "in addition to production cooperation, we will work together to combat the coronavirus," said the company.
The 1,000 medical protective suits and 50,000 masks donated by MLliy to Serbia will be shipped as soon as possible. The company will also donate medical mattresses directly from its production base in Serbia.