As cases of COVID-19 escalate around the globe, China, coming out of the heavy haze of the virus' threat, is lifting its global companions. A ceremony for delivering a batch of medical supplies to Pomeranian Voivodeship of Poland, Shanghai's sister city, was held in Shanghai on March 25.
Donated by the Chinese-Polish Joint Stock Shipping Company, the supplies are scheduled to be carried on a charter flight arranged by the Polish government and to be distributed to front-line workers including medical care providers, law enforcement, fire prevention and border inspection departments.
The ceremony was joined by representatives from both the Chinese and Polish sides of the company, the Consulate General of Poland in Shanghai and the Foreign Affairs Office of the Shanghai Municipal People's Government.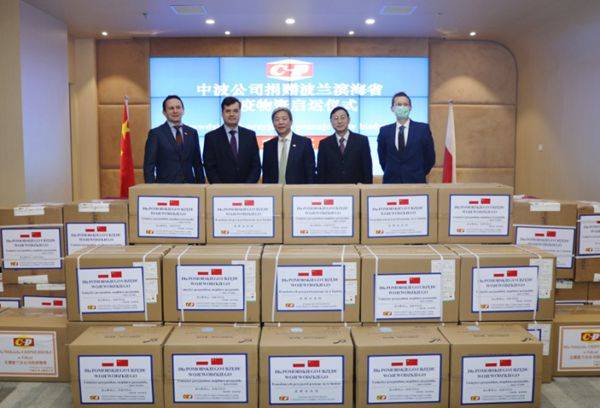 (Representatives of Chinese and Polish sides pose in front of the medical supplies at the ceremony. The second from left is Marek Ciesielczuk, Consul General of Poland in Shanghai.)
On the boxes is written a common proverb in Chinese and Polish -- "A friend in need is a friend indeed" -- as well as a Polish verse "Umiej być przyjacielem, znajdziesz przyjaciela," which means feeling for each other will make for a lasting friendship.
As the sentences state, China has a good relationship with Poland and this year marks the 35th anniversary of the sister city relationship between Shanghai and Pomeranian Voivodeship. The Chinese-Polish Joint Stock Shipping Company, established in 1951 as the first joint venture of the People's Republic of China, has not only made huge contributions to both countries' economies through its Shanghai headquarters and Pomeranian Voivodeship branch, but also acts as a bridge for their friendly exchanges.
More than one month ago when the Chinese were strenuously combating the coronavirus, the Polish branch of the company sent its goodwill to its Chinese part, and purchased urgently needed medical masks through various ways in Poland for the Chinese. Due to the cancellation of international express delivery, in order to bring the protective gear to China in time, a staff member from the Polish side brought it on board a flight to Shanghai. Lukasz Greinke, chairman of the board of directors of Poland's Port of Gdansk Authority (PGA) especially sent his sympathy and support to his Chinese colleagues.
The donation to Poland is therefore China repaying this favour. Hopefully, the friendship between the Chinese and Polish sides will be strengthened since they have helped each other when facing up to the disease.