For staff members of TÜV Rheinland, the Chinese Spring Festival of 2020 was a race against time.
Joining in Alibaba's Global Sourcing Project, a project for collecting medical supplies around the globe for China's coronavirus combat, meant scrambling to inspect the medical suppliers'qualifications, developing the industry's first aerosol filtering protection performance standard for whole vehicles, as well as holding online seminars and courses themed on epidemic control and work resumption. All this and more has been accomplished bythe staff of TÜV Rheinland.
As an independent third-party testing, inspection and certification agency, TÜV Rheinland is dedicated to providing secure and sustainable solutions to meet challenges that emerge in the interaction among mankind, environment, and technology. Amid this epidemic, the company has given full play to its technical expertise.
According to Zhang Jufen, the head of the TÜV Rheinland Alibaba Project, on January 25, the first day of the Chinese Lunar New Year, when receiving an urgent notification to participate in the project, a team composed of staff from various departments was formed. Since then, the team members, who had planned to enjoy their Spring Festival holiday, sacrificed their vacations to serve online 24 hours and worked till midnight almost everyday.
The urgent need to test and inspect medical supplies before transporting those qualified to the front-line medical workers united all TÜV Rheinland members together. Time and location differences, as well as language obstacles were no longer problems. Colleagues overseas even started to use WeChat for the convenience of cross-department communication with their Chinese companions. With the obstacles being solved one after another, batches of safe and licensed supplies have been transported to those areas severely hit by the virus.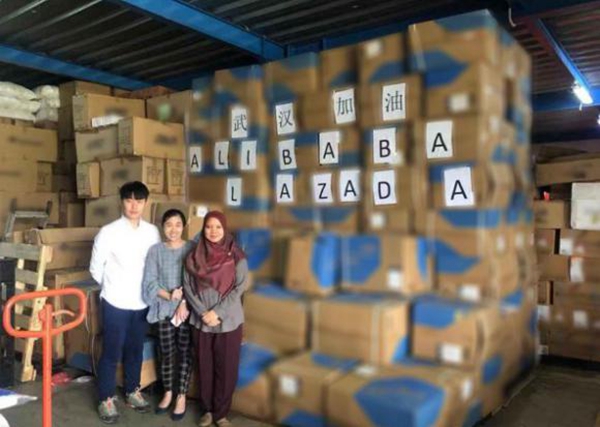 (Overseas TÜV Rheinlandstaffwho test medical supplies for Alibaba pose for a photo)
The epidemic also boosted the creativeness of the TÜV Rheinland staff, who had to adapt to the new lifestyles/needs brought by the epidemic.
In reference to more than 40 standards in the fields of protective masks, medical masks, household purifiers and air-conditioning filters, the company developed the industry's first aerosol filtering protection performance standard 2PfG CH0005: 2020-02 forthe whole automobile. This has long-term significance for continuously improving the air quality in vehicles and protecting the health and safety of drivers and passengers.
With working or studying at home becoming more prevalent, users who look at a computer or mobile screen for prolonged periods may develop potential injury to their eyes. Therefore, TÜV Rheinland launched the Eyesafe Display Standard. This standard covers comprehensive high-energy visible blue light management and display color requirements, therefore providing guidance for users.
Since wearing blue light filter glasses can be another effective means to prevent users'exposure to potentially harmful light emitted by digital screens, the company launched the testing and certification service for eyewear products on the performance of UV protection and blue light absorption. This will help users to choose the right blue light filter glasses.
To fully support customers to conduct business normally during the epidemic, the company conducted online seminars and courses.
On Feb 8, it held the first online training on the theme of "How tocarry out virus prevention and control as well as copingwith the risk of work resumption",attracting nearly 2,000 listeners.
Besides, experts from the company have compiled "The Guidelines for the Implementation of Virus Infectious Prevention and Control Measures in Manufacturing Plants"and "The Key Points for Review of Viral Infectious Prevention and Control in Industrial Manufacturing Industries". These two hand books have been adopted by the Dalian Industry and Information Bureau to provide to enterprises in the city as reference.
As cases of COVID-19 escalate around the globe, the demand for export of anti-epidemic products has soared. In recent days, TÜV Rheinland staff have been busy preparing for a live broadcast on the theme of "Export of anti-epidemic products and global market access". This live course is expected to provide real-time guidance for companies preparing to export epidemic prevention supplies to badly affected regions such as Europe, the United States, and Iran.
In short, TÜV Rheinland has been keeping up with market demand and racing against time to do everything it can to support the anti-epidemic work. Despite the long hours involved, all TÜV Rheinland members have been pleased to give their all.