Shui On Land runs office projects in Shanghai, including 5 Corporate Avenue, KIC, The HUB, Shui On Plaza and INNO KIC. As the city pushes forward with the resumption of work amid an effective control of COVID-19, Shui On has formulated a "Process and Mechanism for Public Health Emergencies" and a plan for epidemic prevention and work resumption, tightened up the measures of prevention and control in line with the epidemic situation, and integrated resources to help small, medium and micro enterprises to pull through hardships and enhance the confidence of corporate and commercial tenants in returning to work.
People-oriented measures in office building management
A safe environment is the top priority for companies to resume work. Prior to February 10, the first day of work resumption in Shanghai, Shui On had fully prepared in terms of prevention and control measures for the office buildings and personnel.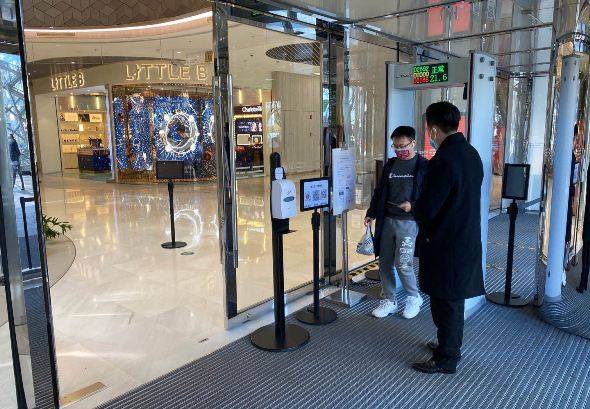 (People pass by a thermal imager before entering a building)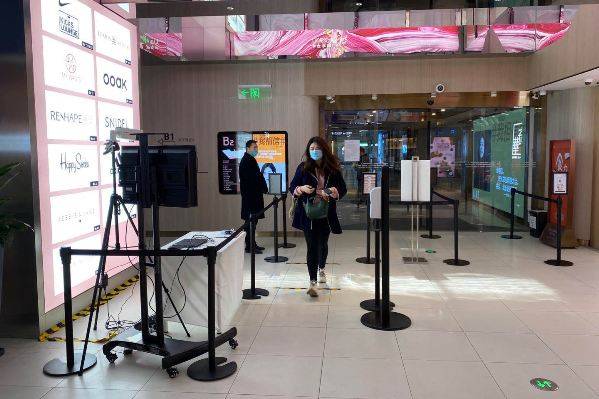 (An infrared thermometer is placed between a metro station exit and a shopping mall entrance)
As the number of the corporate tenants' staff is on the rise, in addition to conventional measures such as frequently disinfecting public areas, equipment and facilities, cleaning air-conditioning systems, taking personnel's temperature every day, strengthening the disposal of discarded masks and the management of food deliveryman and couriers, the company has also set up infrared thermometers and thermal imaging safety inspection gates in entrances with a large flow of people. It has placed great emphasis on the epidemic prevention in areas connecting office buildings or shopping malls with the subway station.
For tenants who have no access to protective and disinfection supplies, Shui On actively helped them to purchase these supplies and meet the standards of work resumption.
In light of employees' demands for parking and lunch and health consultations after returning to work, Shui On has integrated resources in multi-functional communities consisting of shopping malls, office buildings and residences, to offer people-oriented services.
First of all, based on the statistics of available parking spaces in these communities, Shui On offers multiple discounts on fixed and temporary parking. For example a certain number of free parking spaces during a certain period, or within a limited time, and a monthly package at a low price.
Secondly, while caring about the food safety of enterprise employees, it has made a take-out list of high-quality merchants around the office buildings for the employees to choose from. For example Guidelines for Safe Food on Weekdays in XINTIANDI, Take-out Guidelines for White Collar Workers in The HUB, and Safe and Delicious Take-Out Food in Ruihong Tiandi. Every food item in KIC's List of Safe Take-Out Food is even attached with an assurance card, allowing consumers to track the safety of the food, packaging and delivery. Moreover, Shui On has also provided employees with psychological consultation on WeDoctor, an online platform, helping them to alleviate their mental stress and depression resulting from excessive concern about the epidemic.
Restarting a large-scale construction site in Hongkou
In 2020, Shui On has two projects under construction in Shanghai. Hall of the Sun (Ruihong Tiandi Lot 10), a multi-purpose complex, resumed construction on February 21, making it the first site to resume construction in Hongkou District and the second one in Shanghai.
Work resumption on the construction site involves issues such as establishing health checks of workers, on-site precautionary and protective measures, and providing isolation areas, and protective supplies. Ruihong Xincheng established an epidemic prevention and control team on January 24, immediately locked down the construction site, and actively communicated with the relevant departments of the Hongkou District Government to make contingency plans. At the same time, it collected the information of workers managed by the general contractors and subcontractors, checked if workers or managers came from regions severely hit by the epidemic, and determined the key processes and jobs in the construction. Protective supplies were also prepared in advance, including 10,000 masks, 800 disposable gloves, 60 disposable ponchos, 50 kgs of "84 Disinfectant", infrared thermometers, and electric sterilization chambers.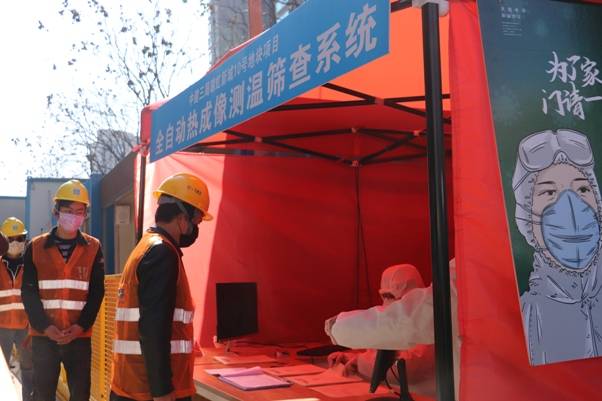 (Workers on the construction site of Hall of the Sun)
To ensure the safety of the dorm, food and construction, under the guidance of the Hongkou government, Shui On has taken innovative preventive and control measures. It has divided the dorm space into quarantine and dormitory areas, and turned multi-directional roads into one-way routes, which guarantee a single entrance open to all the staff. Guardians are required to be on watch 24 hours a day monitoring the daily temperature records of workers, and publicizing the health status of all personnel. It has also set up additional disinfection areas and warehouses for protective supplies at the construction site, and regularly disinfects different areas every day. In addition, thanks to a healthy red card system with special management, every worker can only access the construction site with the card. Staff responsible for delivering food have also been arranged to avoid cross infection.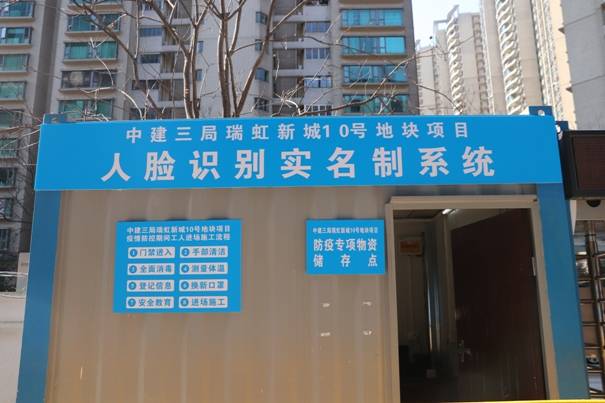 (Facial recognition technology is deployed to ensure safety)
There is a fixed process with "eight steps" for site admission. Workers can only enter the site after finishing the eight steps, namely "face recognition, hand sterilization, body spray disinfection, temperature measurement, health information record, changing masks, finishing safety knowledge courses, and entering the operation area". As more and workers have been returning to Shanghai, the site is also equipped with the first automatic thermal imaging temperature measurement and screening system in Hongkou. If the body temperature of a worker passing through the system is abnormal, the system will auto-save his portrait and send an alert. Then, the management staff will use the infrared thermometer to take a second temperature measurement. The Hall of the Sun has therefore become the model of Hongkou in terms of its preventive and work resumption measures.
It is also worth mentioning that in the early stage of the epidemic, the company announced to exempt or reduce the rents of all commercial tenants during a certain period of time. To help them attract potential customers, it has been publishing the information of commercial tenants on WeChat and membership platforms. It has also negotiated with food delivery platforms to help all the tenants to address the issue of food delivery.