Video: Shanghai doctors share anti-epidemic knowledge with overseas Chinese students
Among the 1.6 million Chinese students studying overseas, 1.42 million are still staying in resident countries, said the Chinese Ministry of Foreign Affairs. To guide them better in caring for themselves and living a positive life during the coronavirus outbreak, Shanghai doctors shared epidemic prevention and control knowledge through a video conference on April 2.
Overseas students and representatives of Chinese associations in London and Johannesburg attended the event. The attendees also expressed their concerns during this special time period.
Dr. Zhang Wenhong, leader of the Shanghai team of experts in the treatment of the novel coronavirus pneumonia, and Dr. Xie Bin, chief physician of the Shanghai Mental Health Center, answered in plain words the questions raised by some overseas Chinese people. Especially for some young Chinese students who are now alone in overseas countries, Dr. Xie gave some advice about how to manage anxiety and boredom during home quarantine or isolation.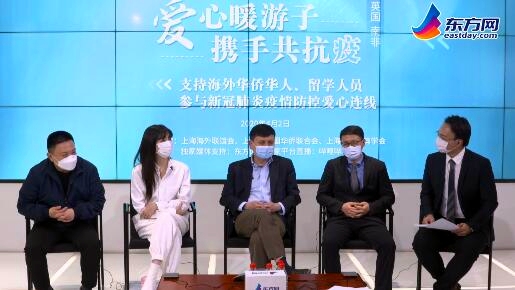 (Zhang Wenhong (middle) and Xie Bin (second from right) at the Shanghai venue)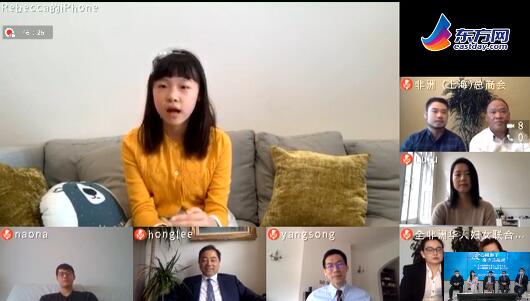 (A young student in the UK shares her concerns via the video conference)
Wear masks, wash hands and stay at home
"If allowed, you should have the initiative to wear a face mask. Though we cannot force people around to wear a mask, you should try to put it on in crowded areas," said Zhang Wenhong. He also warned to the overseas Chinese that people who are not careful in keeping an orderly living habit have a higher risk of getting infected. "If you are careful enough, it is not easy to get infected." He also stressed the significance of washing hands frequently and staying at home.
Some overseas students are worried about the safety of packages purchased from shopping malls. "Do we have to spray some disinfectant on the packages and shopping bags?" asked a girl. In response, Zhang said washing hands with flowing water is more helpful.
Healthy diet during fever
Zhang also pointed out an error of some people who are unwilling to eat after getting a fever. "Once you get ill, two things are very important. First, eat enough food. Many people failed to do this, so that they lacked immunity against COVID-19. During home isolation, they need to drink or eat as much milk, eggs and steak as possible. It is no use having porridge and pickled vegetables, as the intake of nutrition is very important. Some COVID-19 patients turned severely ill as they hadn't had a healthy diet during their trips and quarantine periods. If you are under home isolation, you should keep a good diet. Second, never let fear prevail. If you have a fever, do not be afraid and intake enough nutrition, you will get better in 3-7 days," said Zhang.
Online medical consultations
Some parents are worried about their kids who are now staying abroad. What if they fall ill but have no medicine? Apart from asking the general physicians for help, Zhang and Xie suggested that people can resort to online medical consultations. For instance, the online consultation platform of Shanghai's Huashan Hospital provides services for people all over the world and the inquiry is free of charge. By talking to doctors online, people can know whether they need to take medicine, get injections or seek hospital treatment.
COVID-19 "relapse" mystery
A Chinese student who is studying in the UK raised a question about the so-called "relapse" of COVID-19. Like some others, he was worried about the threat of transmission by the "relapsed" patient whose nucleic acid detection result turned positive. As Zhang Wenhong explained, the scientific mechanism behind "relapse" is very complicated, but it has not led to a large-scale outbreak or infection in the history of epidemiology. So far, there is no case of infection from "relapsed" patients, as the virus in those patients is "dead."
Things to do during quarantine
As surprise guests, Shanghai-born celebrities Jiang Shuying and Shu Yue also appeared at the Shanghai venue, sharing their own methods of killing time when staying at home. Having studied in the UK for over two years and having received a Master's degree in Media Economics from the University of East Anglia, Jiang Shuying is the ambassador to the UK's Spirit of Youth campaign. Based on her own experience of studying abroad, she suggested the young students overseas should communicate more with their friends and family to relieve the mental burden during the COVID-19 outbreak. Also, even at home, people can pick up new skills and keep a positive life.
Shu Yue, a comedy performer familiar to many Shanghai residents, said home isolation provides a chance to build stronger family relationships, enhance one's cooking skills and improve their EQ (emotional quotient).
As the video conference was live streamed on several media platforms, overseas Chinese people in the US, Australia, Japan and Canada also watched on their devices.