It was 4 am at Pudong Airport. A number of travelers arrived at Terminal T2. Among them were some foreigners. After completing his immigration inspection procedures, a young expat walked to the work team of Jing'an District stationed at the airport and said hello very shyly. Zhao Yayun, a police officer of Jing'an who can speak fluent English, came up and helped the young man in filling out the health declaration form and going through the registration for 14-day quarantine. After thanking the team, he said to Zhao, "I will tell my American friends that you guys really did a great job."
Born after 1990, Zhao is a police officer in Jing'an. As a member of the Jing'an public security bureau's foreign language emergency unit, she was dispatched to work at Pudong airport's entry points for two weeks.
Formed during the COVID-19 outbreak, the foreign language emergency unit is the first of its kind in Shanghai. With an average age of 30, the team can communicate with expats in 11 languages including English, Japanese, Korean, Russian, French and Italian. As Shanghai now faces the pressure of controlling imported cases of COVID-19, they are making their contributions at airports and communities with their language abilities.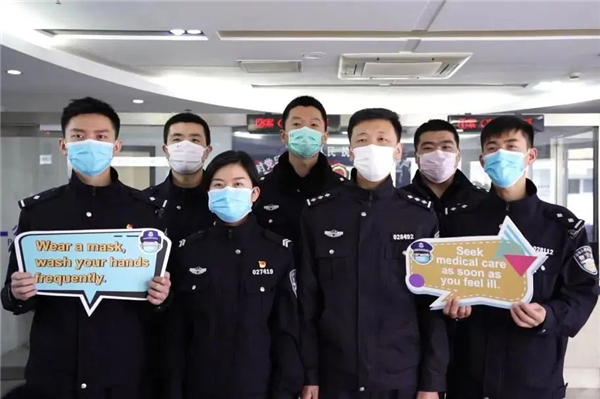 (Some members of the foreign language emergency unit participate in a video recording)
A nice first impression for expats at entry points
"The reinforcement experience at Pudong airport makes me realize the responsibility of we young public security personnel is not limited to our jurisdiction, we can also guard the national border for our country," said Zhao. After putting on the protective gear, she was on the frontline.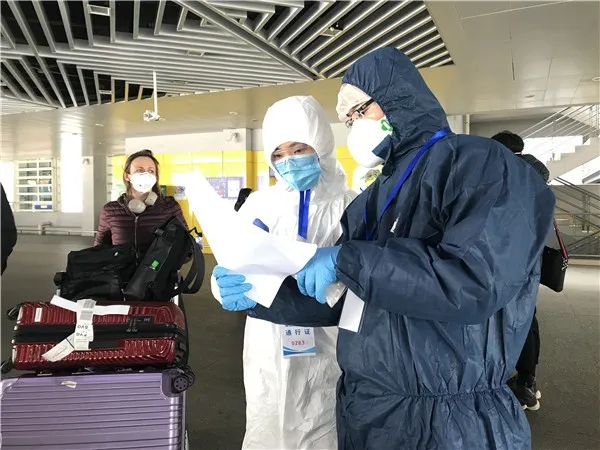 (Zhao Yayun works at Pudong airport.)
On March 13, Zhao received a German teenage girl from flight CA936 (four of its passengers had a fever). The girl's body temperature was 37.8 Celsius degrees. All of a sudden, Zhao became nervous, but calmed down as soon as she could and tried to comfort the girl. She helped to send the girl to quarantine points. Fortunately, Zhao felt a relief that there was no news of confirmed cases of teenagers in the following days.
As a foreign language talent, Zhao is good at both English and Korean. But she said that communication in foreign languages is just a method to achieve smooth transmission of information. Speaking of her work experience at the airport, she said, "We are the guardians of Shanghai and also represent inbound tourists' first impression on the city. Each of us is a reflection of China's youth."
Shanghai is now running a closed loop management from entry points to residential communities or quarantine points. Zhao and her colleagues from Jing'an have so far escorted more than 400 expats to their homes or quarantine points.
Online interpretation services for communities
At present, apart from working in airports, railway stations and communities, members of the emergency unit also provide online interpretation services.
On March 12, an Italian couple who had just arrived in Shanghai was greeted by community police Zhang Fengni and some neighborhood committee staff. After introducing herself, Zhang called her colleague Bai Wenchao. Bai is an Italian major graduate from SISU (Shanghai International Studies University). "Buongiorno, sono un poliziotto del commissariato di Jing'an dell'ufficio della pubblica sicurezza della municipalità di Shanghai. Parlo italiano," said Bai to the Italian couple in their familiar language.
In their conversation, Bai informed the Italians of the city's anti-epidemic measures and reminded them to avoid counterfeit products when purchasing protective goods (like face masks and infrared thermometers).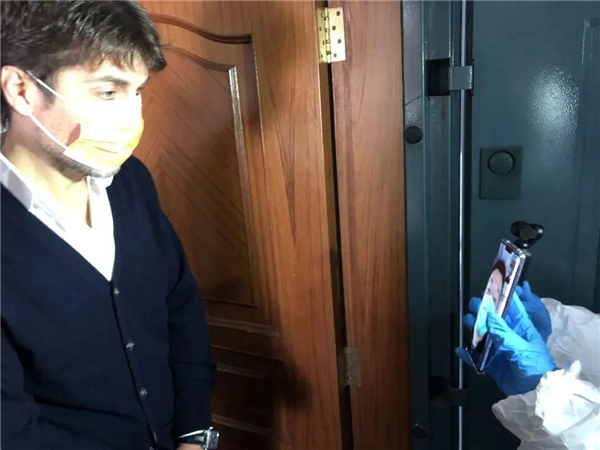 (Bai Wenchao talks to the Italian resident via a video call)
Bai is a police officer from the economic investigation department. Since he joined the emergency unit, he has been on standby 24/7 to offer online interpretation services for his colleagues.
As well as Zhao Yayun, Zhang Fengni and Bai Wenchao, there are other police officers who are good at foreign languages like Japanese, Russian, French and German.
The foreign language emergency unit was established to strengthen the closed loop management of inbound travelers from the perspective of the police department, according to Zhang Xin from the Jing'an public security bureau.
Farewell to "broken English"
On April 3, police officer Hua Yiwen from Pengpu Town Police Station gave a live-stream class to her peers. In the course, she shared oral English words and phrases frequently used by personnel when receiving foreigners. Also a SISU graduate, Hua is good at English.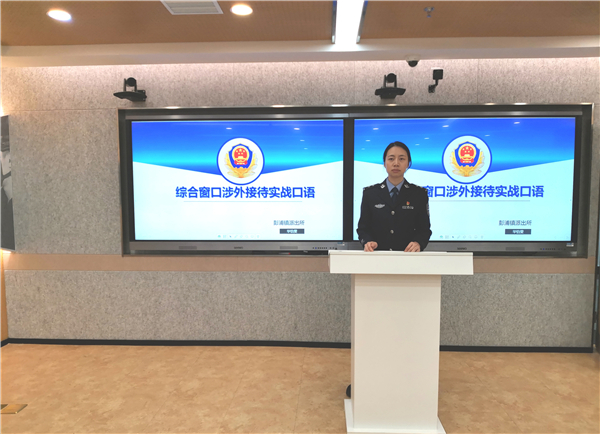 (Hua Yiwen gives a live-stream class to her peers)
Since late February, Jing'an public security bureau has opened English classes on a weekly basis. Key words, phrases and sentences related to COVID-19 have been added due to the epidemic. All police officers in Jing'an can watch the classes on a cell phone. Foreign language learning now plays an important part in improving the police personnel's development, said Xu Xin from the training division of Jing'an Public Security Bureau.
As the prevention and control of imported COVID-19 cases in the city demands more of police officers, the foreign language emergency unit has made a learning card on which there are key phrases and sentences to be used when officers communicate with foreigners, as broken English is now not enough to make expats better understand the city's anti-epidemic measures.
To help those who have difficulty in pronunciation, Zhao Yayun also recorded an audio file. People can scan the QR code on the learning card to hear the correct English pronunciation.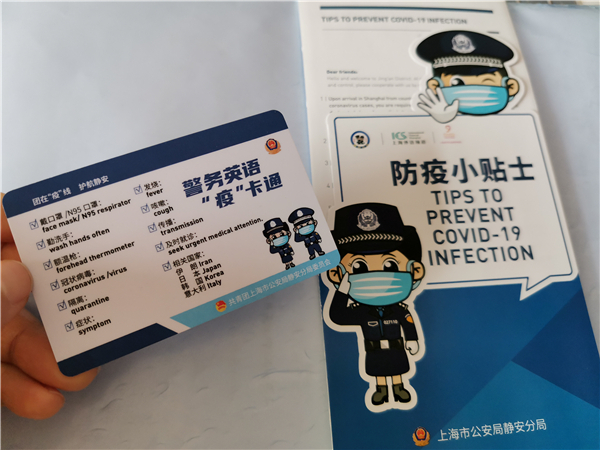 (The learning card and the handbook of anti-epidemic tips)
Together with ICS (International Channel Shanghai) and the Shanghai Call Center (962288), the unit has also drafted a handbook of anti-epidemic tips in six foreign languages to help expats better cooperate with the city in its containment of the coronavirus. The handbook has been distributed to many public places and eight consulate generals.
In the following days, the unit will continue to provide more specific and professional guidance for expats when they resume work, as well as public security involving foreign affairs and preventive education.
(Photos and video provided by Jing'an Public Security Bureau)