During the epidemic, some technology-based SMEs (small- and medium-sized enterprises) are looking for opportunities in emerging markets, to usher in new growth points. Disinfection robots have been a hit as their orders have seen a surge in demand.
Since February, technology enterprises in Shanghai have successively resumed their work and production. 96% of high-tech enterprises across the city have resumed work. Among them, the rate of work resumption of enterprises in the three major fields—biomedicine, integrated circuits and artificial intelligence—has reached nearly 100%.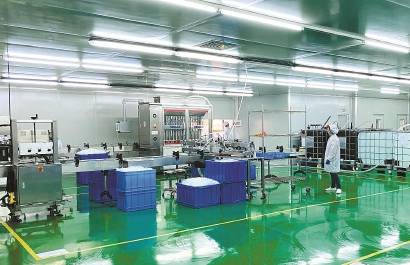 (A production line of a high-tech enterprise in Shanghai)
TMiRob, a robot maker based in Zhangjiang High-Tech Park, has seen a ten times increase of its orders since it restarted production in late February. Over the past two months, TMiRob's robots have joined the frontline in over 200 designated hospitals for COVID-19 across the country. The robots have been deployed for sanitation, isolation ward services and medical resources management.
With a height of over one meter, TMiRob's disinfection robot features autonomous navigation and its work efficiency is six times that of manual sanitation. With multiple options of disinfection, like UV, plasma air filtration and ultra-dry atomized hydrogen peroxide, it will annihilate 99.9999 percent of germs in 30 square meters in just five minutes.
Established in 2017, intelligent robotic equipment maker SAGE has also seen a surge in demand for its medical service robots for epidemic prevention and control. In the six months before the epidemic the orders for its self-developed disinfection robots were in double digits, but during the epidemic, in one single month, the number of orders soared to three digits, according to Zhang Jianzheng, founder of SAGE. As he said, in the future, his company should pay more attention to commercial application scenarios such as in hospitals, libraries and residential communities.
Pan Jing, founder of TMiRob, agrees. "Forward-looking companies can define and tap future market demands. For instance, big screen phones were unimaginable many years ago, but now they have grabbed a large market share." Now his company is speeding up the manufacturing of its sanitation robots, with a production capacity of 450 pieces per month. Established in 2015, the company is now planning to expand its robot production base. However, as Pan pointed out, the government's recognition and promotion of new technologies are also necessary to achieve wider application and localization of medical robots, though the latter has a bright market prospect.