To the tune of the guqin (seven-stringed zither), Estel Vilar Bofill and her family stand on yoga mats and follow the postures for Ba Duan Jin exercise following a practitioner in a video. During the COVID-19 outbreak, such exercise has become a routine for Estel. She always practices the classic Chinese indoor exercise with her parents, younger sister and her daughter.
Estel has a Chinese name: Wei Yingxing. Her mother has been practicing qigong for three decades. Influenced by her family, Estel is also a fan of Chinese traditional culture. She began to study Chinese at the age of 17 and came to Shanghai in the 2000s. From 2013 to 2018, she also participated in a Qigong training class at the Shanghai Qigong Research Institute. As she said, "After practicing qigong, all the physical conditions in my body have been improved, especially in terms of emotion regulation. Most importantly, it has provided me with a healthier thinking and practice framework."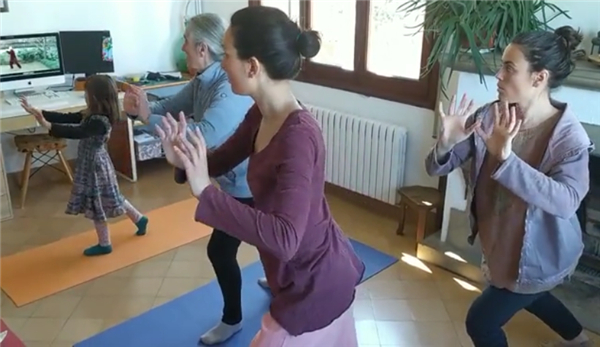 (Estel and her family practice Ba Duan Jin)
As the coronavirus spreads across the world, the Taiji Health Center of Shanghai University of Traditional Chinese Medicine (SHUTCM) together with the Shanghai Qigong Research Institute has launched a set of online courses. The eight courses are: Ba Duan Jin; Fang Song Gong (Relaxation Exercise); Liu He Gong (Six-Unity Exercise); Gu Yin Liu Zi Jue (Six Healing Sounds); Song Rou Gong (Soft and Relaxed Exercise); Xiao Yao Gong (Free and Easy Exercise); Tian Zhu Dao Yin Gong; and Yi Jin Jing (Chinese Transformation Classic). The videos are in Chinese and have English subtitles, so that non-Chinese can better understand.
Each week, Estel practices the exercise three times by following the online videos. She believes the courses can help people around the world better understand traditional Chinese health cultivation, and offer reliable qigong practice and theoretical reference.
Estel is a director of a holistic health culture center in Spain. Having benefited from qigong and classical Chinese health cultivation, she has been imparting what she had learned in China to more and more Spanish people. After COVID-19 was spread to Spain, most citizens have had to stay at home. As Chinese health cultivation exercise can be practiced indoors, Estel is promoting the online courses to people around her through various platforms.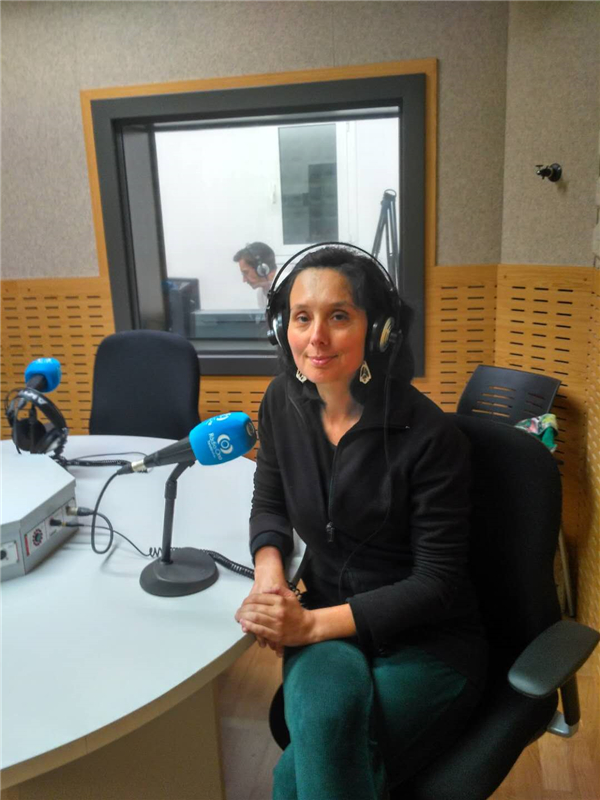 (Estel introduces qigong in a local radio station)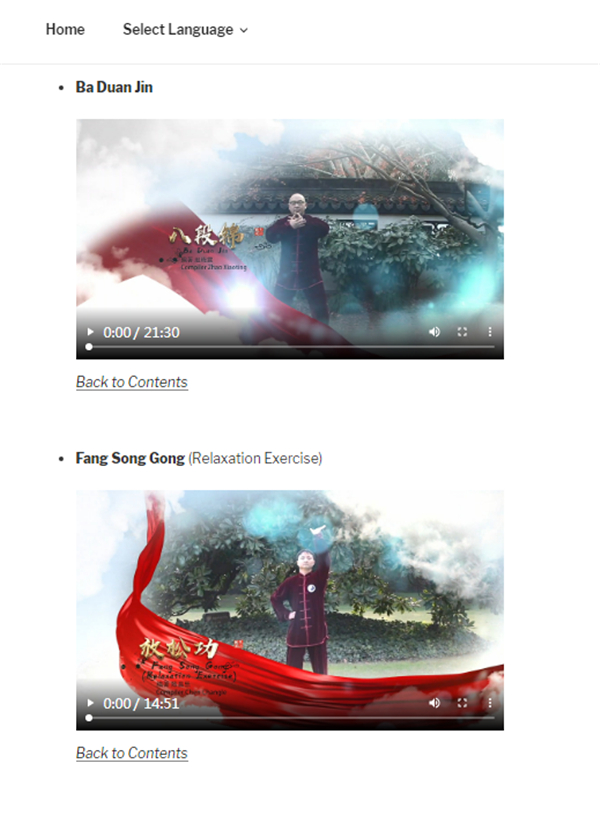 (A screenshot of the online course website)
The online course website has been visited by people from 56 countries and regions. Staff at the Traditional, Complementary and Alternative Medicine Division of the WHO have also shared the videos with their colleagues.
Rooted in traditional Chinese philosophy, medicine, and regimen, traditional Chinese health cultivation exercise refers to a general term for various physical and mental exercise methods evolved through history. It has been one of the traditional methods for the Chinese people to strengthen the body, and prevent and treat diseases since ancient times.
In the recent fight against COVID-19, medical staff in Wuhan's frontline hospitals have taught patients to practice Taichi and Ba Duan Jin, bringing traditional Chinese health cultivation back to people's attention. Zhang Dezhong, deputy leader of the medical treatment expert panel of the State Administration of Traditional Chinese Medicine, has mentioned the role of TCM in combating the coronavirus. As he said, symptoms of insomnia, abdominal distension, and lack of appetite in patients can be relieved by TCM therapies, and Taichi and Ba Duan Jin can significantly strengthen patients' physique and accelerate recovery.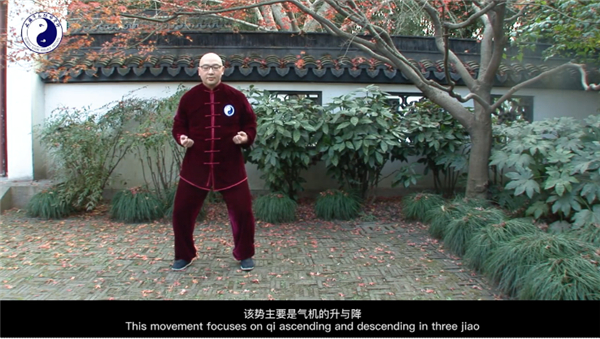 (A practitioner teaches Ba Duan Jin)
"Previously, though the public did have some knowledge of traditional Chinese health cultivation, the latter still lacked recognition and transmission. Now the exercise has reemerged in the public's eyes as a positive guide, providing a new opportunity for the inheritance and promotion of traditional culture," said the person in charge of the Shanghai Qigong Research Institute.
"We should encourage more people to practice this 'green' [or low impact] exercise to prevent diseases. At the same time, they can have a new understanding of their physical, mental, spiritual and entire life." In the future, there might be more courses offered by the Qigong research institute if necessary.
Chinese health cultivation has many followers, even beyond China. They learn the exercise through different channels. For instance, international students learning TCM at SHUTCM can choose the course in their curriculum. Also, the Taiji Health Center and the Shanghai Qigong Research Institute have international training classes all year round. Many expats in Shanghai spend their weekends taking the classes to practice Chinese health cultivation. Some of them are Chinese culture lovers, while some others do the exercise for keeping well after being treated with Chinese medicine, acupuncture and tuina. Many of them, after returning to their home countries, promote the unique Chinese culture to people around them, and even work as a coordinator between Chinese and foreign universities and societies for their further cooperation. Some others, like Estel in Spain, set up classes to introduce Chinese health cultivation to others.
(Images and videos provided by interviewees)