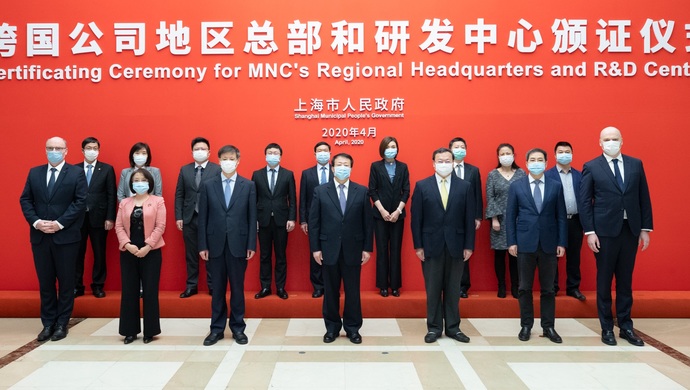 Shanghai remains one of the most attractive foreign investment hotspots in China and the world at large. The city has recently certified a new batch of 21 regional headquarters and 10 research and development centers of multinational enterprises.
The multinational companies are mostly involved in Shanghai's key industrial sectors. Among them, seven are in the biopharmaceutical field, four in the fields of digital information technology, AI and intelligent manufacturing, and three in the fields of integrated circuits and new materials. Many of them are industrial leaders: two of the 31 companies are Fortune 500, and three have set their Shanghai headquarters as their HQ covering Greater China, Asia Pacific or larger regions.
Gong Zheng, acting mayor of Shanghai, awarded certificates to the companies on April 9.
The development of foreign-funded companies in Shanghai has always been highly valued. Since the beginning of this year, a string of measures have been introduced and rolled out to better the city's business climate and attract more investment. Since the outbreak of COVID-19, the municipal government has visited regional headquarters of multinational corporations in Shanghai and key foreign-funded companies, to actively solve their problems and boost their confidence in the Chinese market.
So far, the cumulative numbers of regional headquarters and R&D centers have surged to 730 and 466 respectively. In Q1 of 2020, the paid-in value of foreign investment in Shanghai topped USD4.67 billion, an increase of 4.5 percent year on year.