A live discussion on coronavirus epidemic prevention between Zhang Wenhong,director of Shanghai Huashan Hospital's Department of Infectious Disease, and overseas Chinese and studentsin India was held on April 23 in Shanghai.
Coordinated by the Shanghai Foreign Affairs Office and the Shanghai Municipal Health Commission, Professor Zhang, directorof the Shanghai panel overseeing the treatment of COVID-19,was invited by the Chinese Embassy in India to give epidemic control suggestions.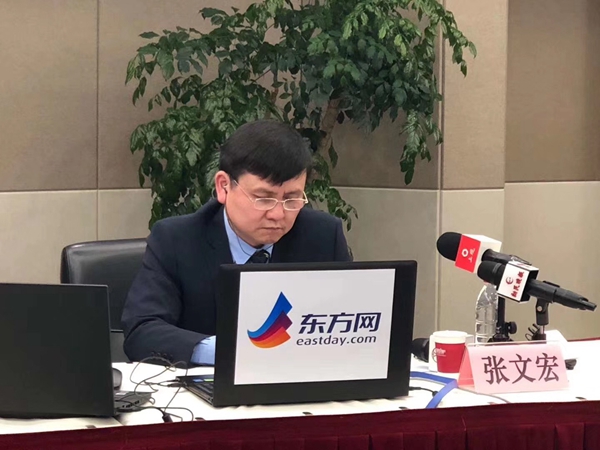 (Zhang Wenhongin the studio of Shanghai Orient Broadcasting Company, a Shanghai-based media group operating eastday.com)
Regarding when India's outbreak will turn a corner, Zhang believes it's hard to predict. In his opinion, the number of casesinIndiawillincreaseat a steady rate, similar towhat has happenedin America. In consideration ofeconomicactivityresumption and operation as well as controllingthe epidemic, it's understandable that the Indian government planto resume work and production in some sectors after the current complete shutdown.
"I think in the long term, India will adopt normalized anti-epidemic measures, namely controlling the outbreak as the society beginsto operate more normally, not like Australia's resuming work only after the daily increase has greatly reduced."
In Zhang's view, facing up to the normalized anti-epidemic situation, people should give priority to doing what they can personally, such as wearing a mask, washinghands frequently, eatingmore high-protein foods and takingmore exercise.
(The live discussion)
Regarding the journey back to China, Zhang also gave comprehensive suggestions on passport inspection, mask removal, eatingfood and drink on the way, and hand washing.
Currently, India's outbreak is still severe, and the national "blockade" has been extended to May 3. According to data from the Ministry of Health of India, as of 8 a.m. local time on April 22 (10:30 a.m. Beijing time), the total number of newly diagnosed cases of COVID-19 in India is 19,984, including 640 deaths.
Sun Weidong, Chinese ambassador to India, who also participated in the discussion, introduced that among the 3,100 Chinese in India, including about 240 international students, none have been infected.
To protect the health of Chinese citizens, the Chinese Embassy in India has been keeping close contact with the Indian health department and private hospitals, and has issued dozens of safety reminders to Chinese citizens in India through its website and WeChat group, and also gave out anti-epidemic "Health Packs" including medical supplies.
Sun Weidong reminded everyone that since India has a large population with a high density, limited medical resources and a low COVID-19 testing rate, Chinese citizens there need to treat the Indian epidemic based on those facts. Professor Zhang's suggestions will guide Chinese citizens in India to better protect themselves by giving them more confidence in fighting against the disease.