A video conference on scientific research and innovation was held on May 4, China's Youth Day, for Chinese youngsters in the UK.
Four special guests were invited to deliver speeches at the conference. They were: Dr. Wu Yijiang, an innovation executive at a multinational IT company; Dr. Yang Zongyin, a nanophotonics researcher at the Cambridge Graphene Centre; Dr. Shen Boyang, a researcher at the University of Cambridge and winner of the IEEE Graduate Study Fellowship in Applied Superconductivity; and Yuan Xinjie, a doctoral student at University College London.
Apart from sharing their own stories in the UK, the speakers talked about the trend of scientific and technological innovation and its profound impact on human society. As COVID-19 is still raging across the globe, topics also included what scientific technology can do to help control the pandemic and make contributions to people's health.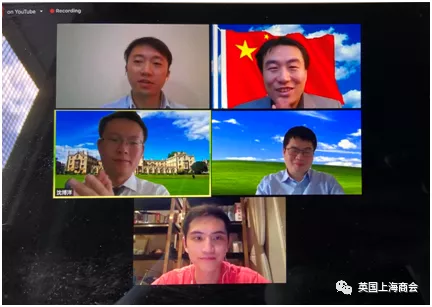 Speaking of the significance of the video conference, Dr. Wu Yijiang said it was very meaningful to attend the event on Youth Day. "With fire in heart and light in eyes, we in the bloom of youth have the right to choose our dreams," commented Wu.
Dr. Yang Zongyin shared his research result: the invention of the world's smallest mini-spectrometer, which is one thousandth the size of the smallest spectrometer currently available on the market. As he said, there were tough times in the research project and many times he had the mind of giving up, but he still carried on and won success.
According to Dr. Shen Boyang, who specializes in superconducting technology, more and more top-tier research projects in the UK will be carried out with Chinese researchers, as China can provide more economical scientific research materials and the most advanced technology. China plays a significant role on the world arena and working with China will be an increasing trend in the future, said Shen.
Yuan Xinjie from University College London introduced renewable energy, fuel cells and their applications, the CCHP (Combined Cooling Heating Power) system and its advantages, and discussed what we can do in terms of energy security during the pandemic outbreak.
The video conference was initiated by the British Chamber of Commerce Shanghai, with the aim of inspiring more Chinese youngsters who are living or studying in the UK to commit more to their work and enhance the Sino-British cooperation in science and innovation.