After studying and working in Shanghai for 16 years, a girl from Latvia chose to take over a nursing house in the countryside of Shanghai. At the age of 35, she manages over 60 staffers and 200 elderly people.
People describe Anastasija Puzankova as the first and only foreign manager of a Chinese nursing house. But she does not care about that. She said what she wants is to provide better services for the residents.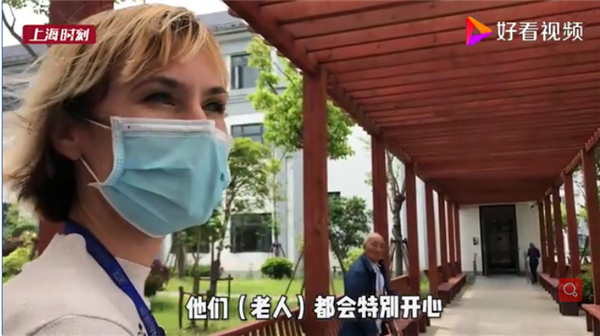 The Latvian is a China expert, thanks to ten years of academic experience at Shanghai's Fudan University. In 2014, Anastasija graduated with a master's degree in Environmental and Resources Protection Law. In April 2019, she was dispatched by her company to work at the Jiufeng Nursing House in Shanghai's Qingpu District, thanks to her philanthropy-serving experiences in college.
Each morning, she gets up at around 5am in her rented apartment in Xuhui and gets on the subway to go to work. Then she takes a bus to the nursing home. The commute takes her nearly two hours.
To run a nursing home, the first challenge for Anastasija was to win the recognition of the cleaners, nursing assistants, security guards and other staff members. A piece of news inspired her. Anastasija was much motivated after learning that a manager of another nursing house had passed many qualification exams, like those for a plumber or electrician. "I think that is what a manager should do," she thought to herself. So she tries to know as much as possible of what her staff are doing.
The young lady is also very patient when dealing with the senior residents. The old people treat her like their own family.
The COVID-19 outbreak early this year has posed a big challenge for Anastasija. From the end of January to April, visits to the nursing house were banned under the national emergency. The 60 staff members all had to live in the nursing house, in order to provide 24-hour services for the residents. Dining and entertainment activities also underwent adjustment.
To get rid of the boredom during home isolation, Anastasija came up with several ideas to spice up the elders' daily lives. On March 12, the Arbor Day in China, Anastasija bought some seedlings online, so that people in the nursing house could do some planting jobs on a vacant plot of land.
(Staff at the nursing home plant towel gourds, pumpkins and beans.)
"Some of the elderly people are good at planting. But their physical conditions may not allow them to do the farm work, so they will give us some guidance when we are doing the planting," said Anastasija.
Anastasija said she is grateful that the elderly people here like her and she will keep working here, trying her best to care for them.
(Photos/Xinmin.cn)