Snacks are no longer a concept to delight your mouth, as the pace of people's lives is getting faster and people are more concerned about having a healthy lifestyle. Snacks have gradually become meal replacements and 85% of young Chinese people prefer fresh and healthy snacks, says a latest report.
The report, titled "China Fresh Snacks White Paper 2020" by the Iyiou Thinktank, also finds that more than 60% of Chinese consumers check the nutrition facts when purchasing snacks. By 2025, China's leisure snack sales will exceed 4 trillion yuan (about 139 billion USD), with a trend of long-term steady increase, says the report.
China's biggest snack food retailer Lyfen has recently announced a strategic upgrade, setting "fresh snacks" as its brand strategy for the next decade.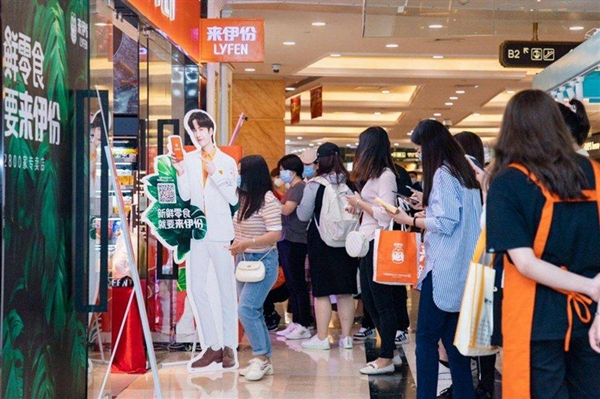 (People line up in front of Lyfen's store)
"The reform of Lyfen aims to satisfy the younger generation's demand for fresh snacks, which are both delicious and nutritious," said Shi Yonglei, co-founder and chairman of Lyfen.
Fresh and healthy snacks have been extremely popular during the epidemic outbreak. Lyfen's revenue reached 1.314 billion yuan (9.3 billion USD) in the first quarter of 2020, up 10.08% year-on-year. During the coronavirus outbreak, Lyfen's stores have seen a boom of orders, with over a 200% increase, and the food delivery orders on the Lyfen App have seen a skyrocketing surge of 600%.
As consumers pay more attention to health and nutrition, "fresh food" is becoming a mainstream of the industry, noted Zhu Danpeng, an analyst in the Chinese food industry. As China's first snack food retailer that went public on the main board of the Shanghai Stock Exchange (SSE), Lyfen boasts advantages in offline physical stores, consumption power and brand heritage. According to Zhu, the timely brand upgrade by Lyfen at this time is to meet consumers' core demand and appeal, and the effect of this strategy is worth anticipating.