The Shanghai Jingju Theatre Company has recently launched a mobile game character by working together with the game "The Tale of Food". By combining Peking Opera characters and Chinese cuisine, two wonderful aspects of traditional Chinese culture can now be experienced in a very modern form.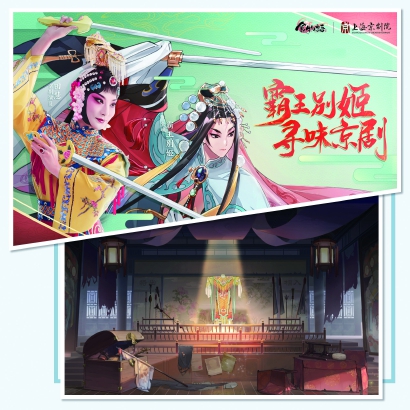 Not only is it a symbol of Peking Opera's re-emergence, it also offers a new Chinese-style experience to game players.
The character is Yu Ji, the concubine of Ba Wang (Xiang Yu, the King of Western Chu in ancient China).
Many Chinese people are familiar with the couple's story but what is lesser known is that there is a dish named after them. Xuzhou people in Jiangsu Province created the dish to commemorate the tragic hero Xiang Yu and the loyal Yu Ji. The dish is made up of soft-shell turtle and chicken.
To really make the character engaging, the Shanghai Jingju Theatre Company had to create its personality, characteristics, stories and interactivity. It took the team nearly half a year to make a mobile-game-version Yu Ji, which embodies a Peking Opera performer rather than the ancient character herself.
Tian Hui, who plays the roles of Qingyi (the main female roles in traditional Chinese drama), served as the voice advisor for the dubbing of Yu Ji in the mobile game. In order to fully represent the Peking Opera ambience, the Shanghai Jingju Theatre Company has also provided patterns of its props (including the details of the costumes, the carpet, the table and chairs on the stage) for game designers as reference.
The launch of Yu Ji in "The Tale of Food" has raised a lot of discussion on social media. Many netizens, especially young people, have commented on the theatre company's official Weibo account to express their interest in the new character. Who says that traditional art is far removed from the younger generation?