A Shanghai-Suzhou-Huzhou railway project began construction in the Zhejiang city of Huzhou on June 5.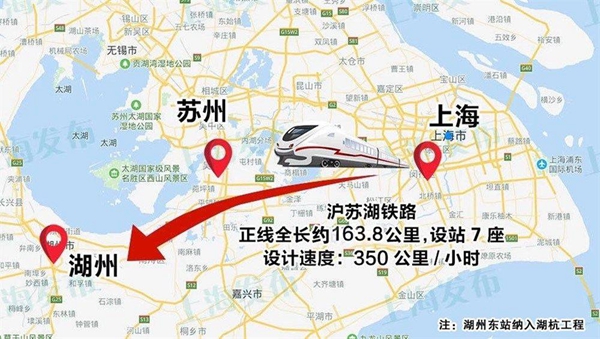 Traversing core areas of the Yangtze River Delta, the railway is expected to allow a speed of 350 kilometers per hour. With a length of more than 160 kilometers, it has 7 stations including Shanghai Hongqiao Station, South Songjiang Station, Nanxun Station and Huzhou Station and is scheduled to becompleted in 4 years.
The new railway will not only strengthen the transport network in core areas of the Yangtze River Delta, but also boost Huzhou's development by making it within 30 minutes of Shanghai and the only high-speed rail hub city within 1 hour of all provincial cities of the delta-- Shanghai, Nanjing, Hangzhou and Hefei.
According to He Jianhua, former vice president of the Shanghai Academy of Social Sciences, new infrastructure in the delta will greatly drive its development.