For musical actress Yu Siran, it was a special concert. Half a month later, the harmonious atmosphere and warm feeling still linger in her mind.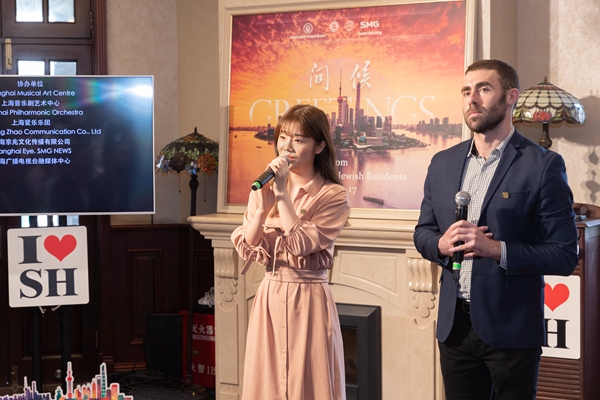 Yu Siran (left) sings at the concert. [Photo by Pan Jiandong]

More than 20 Jewish people in Shanghai were invited to gather at the Shanghai-Jewish Friendship Concert on May 17. At the White Horse Inn of the Shanghai Jewish Refugees Museum, Chinese and Jewish guests chatted and enjoyed the concert.
Yu was the singer of the opening song DonaDona, a Jewish folk song created during World War II. Since it was her first time to take part in a Chinese and foreign event, Yu was quite excited. In her view, organizing such a concert amid the coronavirus pandemic was quite meaningful, since it conveyed peace and unity. Therefore, when she was invited to participate, she didn't hesitate and went back to Shanghai from her hometown of Jiangxi.
"It was very meaningful to hold such a concert at this special time. This event conveyed the value of peace and cooperation and reminded everyone to unite and overcome difficulties. Although the epidemic had prevented me from being on stage, as a musical actress, I hoped to do my part to convey the belief of a community of shared destiny," said Yu.
What impressed Yu most was the audience's rapt attention, as if immersed in the lyrics. "You can obviously feel that the Jewish people are very affectionate about this song," said Yu. Moreover, the harmonious atmosphere made her feel that everyone present, whether Chinese or Jewish, was a group, and positive energy, love and goodwill flowed among them.