A smart network for bus services across the city has taken shape, integrating monitoring and alerts, data analysis, emergency command, and application displays.
Like blood capillaries, the city's bus network is vastly more complicated than the subway network. With the optimization of Shanghai's suburban bus line network, the volume of passenger transport on regional buses has seen a slight increase for the first time since 2014, up 1.4% year-on-year.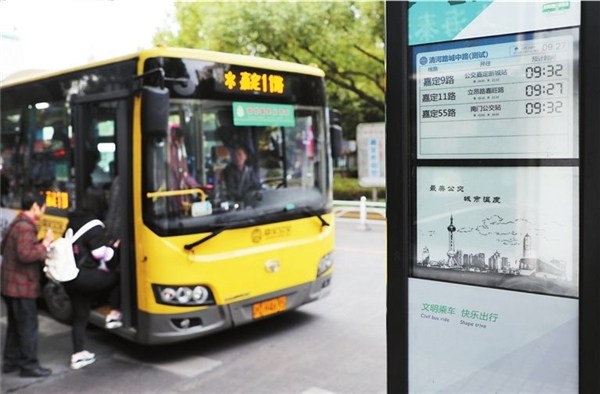 The bus operators have been improving the "smart bus" system to better serve millions of passengers each day. In terms of digitalization, by the end of this year, real time bus arrival screens will cover bus stops in seven districts of Shanghai.
The municipal project actually began last year. In 2019, a total of 258 bus lines and 3,644 bus stops were equipped with real-time bus arrival screens in central Puxi and Pudong New Area, said Xie Feng, director of the Shanghai Municipal Transportation Commission. This year, the project continues to be part of the local government's agenda. It is projected that by the end of 2020, another 65 bus lines and 498 bus stops will feature bus arrival information service.
So far the accuracy of the arrival time of a bus has been elevated to 93%, said a person from Shanghai Jiushi Group, the city's largest ground public transportation enterprise, running 516 bus lines, 18 comprehensive bus management areas and 22 large-scale junction stations.