At a latitude of 29°N, Xianju County in Taizhou, Zhejiang, has a subtropical monsoon climate, a unique microclimate in the mountains and moderate soil pH. The resulting excellent agricultural conditions have meant its waxberries have been well known since the Ming dynasty (AD 1368-1644). Shanghai citizens can now enjoy Xianju waxberries just one day after they have been harvested from the orchard.
On June 15, Xianju, dubbed "the land of waxberries", promoted its star fruit in Shanghai, through various activities both online and offline.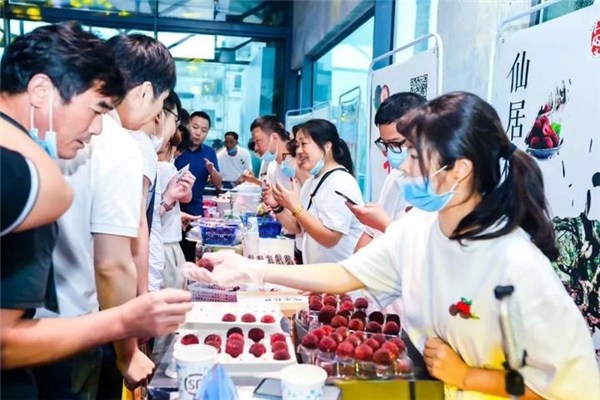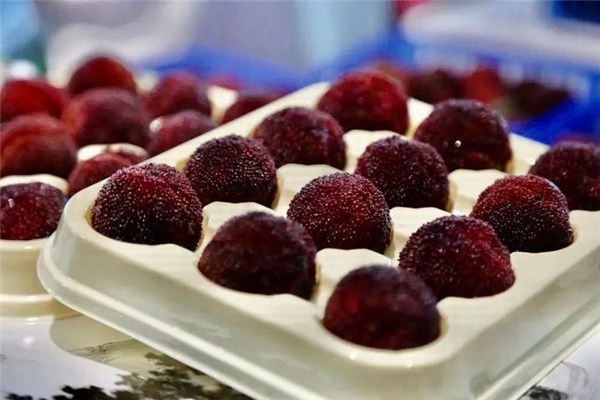 Wearing blue printed coats and headbands, fruit farmers from the county held the baskets full of waxberries in front of their mobile phones and talked proudly to the camera, promoting their fruit to the netizens. They also explained the entire process of harvest and transportation from tree to table.
Offline at a promotional meeting, while introducing waxberries to Shanghai citizens, people from Xianju also recommended their special tourist routes.
Boasting a history of one thousand years, Xianju County is also famous for its two mountains: Kuocang Mountain and Tianmu Mountain (the latter became renowned thanks to ancient Chinese poet Li Bai). What's more, the Xiatang Cultural Relic Site is the country's best preserved Shangshan cultural relic site (a culture from the Neolithic Age).
There is Potan Ancient Town, the No.1 ancient dragon-shaped street in East China; Tongjiang Academy; and Gaoqian Ancient Residence from the Ming and Qing dynasties.
The earliest ancient temple built in the south of the lower Yangtze River area, Daxing Temple, is also located in Xianju. Additionally there are 31 well-preserved traditional Chinese villages in the county. People can also enjoy fantastic national cultural heritage like lion dancing and frameless lantern making.
An abundant harvest of waxberries has been reaped in Xianju this year. The planting area of waxberries across the county is 138,000 mu (92 square kilometers), yielding nearly 100,000 tons in total. Thanks to better packaging and distribution methods, the shelf life of waxberries has been extended by 10-15 days. The fruit can stay 60 hours in transit.
For this year, more than 500 pickup locations have been set up by Shunfeng Express in Xianju County, covering over 400 waxberry cooperatives, cold storage facilities and professional markets.
With two expressways running through, Xianju is about four hours' drive from Shanghai. If you take the train, you can go from Shanghai to Taizhou, Linhai, or Yongkang, and then drive for one hour before arriving in Xianju. The good news is that by 2023 when the Hangzhou-Wenzhou high-speed train will open, the travel time between Xianju and Shanghai will be reduced to just 90 minutes.
(Photos/Zhejiang News)