The 12th Lujiazui Forum kicked off in Shanghai on June 18, gathering government officials and financial experts to discuss and foster international financial cooperation and further the reform and opening-up of China.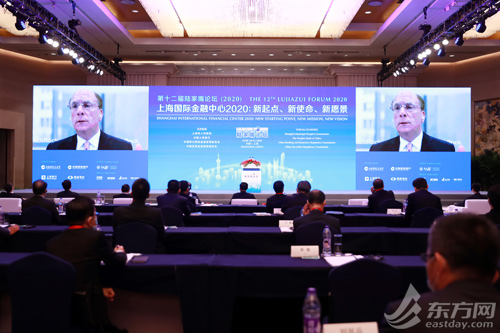 When delivering a remote video speech at the forum, Larry Fink, chairman and CEO of Black Rock Group said that the pandemic has imposed an unprecedented challenge to the medical system, economy and humankind.
The post-epidemic world will be different in terms of investor psychology, business and probably consumption. In Fink's view, although the outlook remains challenging, there are some encouraging signs since no obstacles have thus far occurred in the recovery from the pandemic unlike the financial crisis in 2008. Due to strong and timely fiscal and monetary policies adopted by policy makers in various countries, including the United States and China, the global market has avoided a potential systemic disaster.
"Despite the hard hit, I am confident that the global economy will stabilize and recover steadily," said Fink.
Fink believes that the global economic recovery after the pandemic requires accelerated trade. If geopolitics continues to be tense, trade will not increase. In order to recover from the pandemic crisis, humanity needs to go beyond partisan disputes and national boundaries.
"We need to rethink at a deep level how and why to develop commerce," said Fink.