This year's night tour in Shanghai Wild Animal Park will be open to the public on July 1. It is the first time the bus entrance section will remain open at dusk, instead of being closed at 16:30 as usual.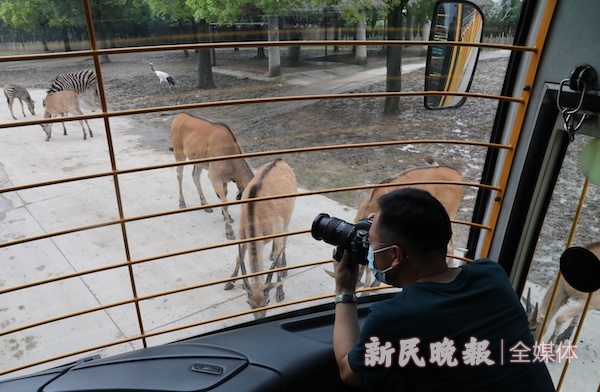 A visitor takes photo of the grazing animals from the bus window.[Photo/ newsxmwb.xinmin.cn]
During the night tour, the zoo will launch nearly 100 popular science narration and animal behavior displays, including "Animal Night Parade"and "Happy Ocean Sea Lion Show". The three animal- themed restaurants in the park will be open as usual. A "Swan Night Market"and "Tiger Beach Night Market"will open for the first time.
Besides the improved layout of animal display sections, display types and night facilities, this year's night tour has also adjusted its emergency plan. Staff members need to check the facility and disinfect the areas they are each responsible for. Visitors must have their temperature taken and show their health certificate code before entering. Loudspeakers will announce social distancing reminders now and then according to the monitored visitor flow.