Zhang Yu is a post-graduate international student studying International Relations in the Instituto de Empresa, who experienced the coronavirus outbreak in Spain.
Zhang said that the Chinese students who were doing the same degree at the time of the outbreak were quite cautious, so they contacted the school and the Chinese Embassy in Spain to ask them to introduce online courses. The school obliged and, therefore, even before the national state of emergency was announced on March 13, they started online learning in their Spanish accomodation.
In consideration of the health of the students and faculty, the school contacted a professional laboratory to provide antibody tests.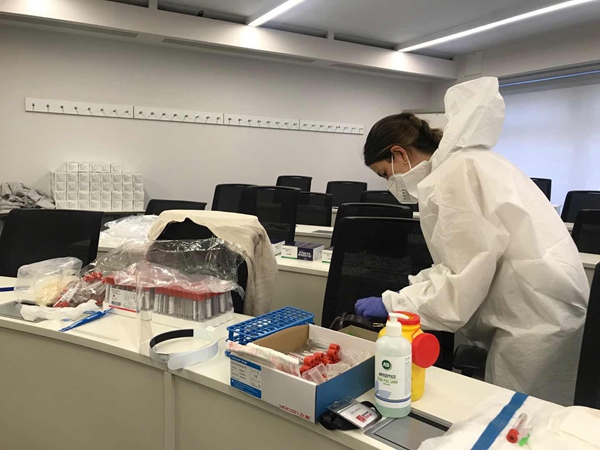 (A doctor prepares the tests)
Zhang lives outside the campus with two female Chinese students. Since their onerous study tasks normally take up lots of time, the outdoor ban did not exert too much influence on them. If they wanted to have a rest, they just went to the top terrace to breathe fresh air, with no need to leave the house.
Her landlady is a Spaniard who can speak a little Chinese. In 2008, she came to China for study and learned Chinese for 10 months, and therefore is interested in various aspects of China. When the pandemic broke out around the world, she was not only concerned about her home country but also China.
As many Spanish people were complaining about losing their freedom due to the quarantine order, the landlady began to take action. Since she and her three house guests needed to have meals at home every day, the landlady especially bought an extremely large freezer to store two-weeks' supplies.
In her spare time she learned to make rewashable masks following a doctor's instructions on TV. She was quite satisfied with the masks and upon being asked where she bought them, she would proudly answer they were made by herself.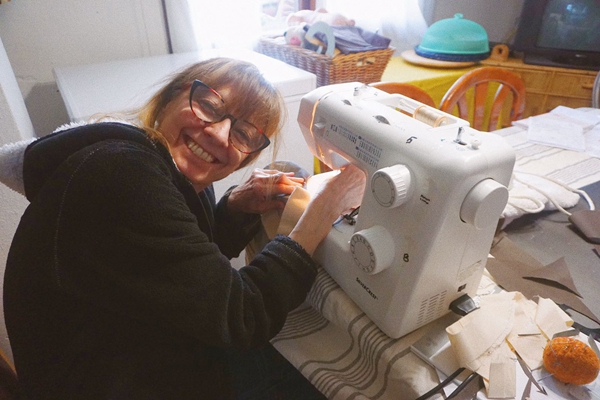 (The landlady makes masks at home.)
For the Spanish, China's anti-epidemic experience has proved that wearing masks in public places is a key to control the disease. She agrees with such a measure and is willing to make more Spanish people learn the importance of mask wearing through making them herself.
(Story by Wu Yue from shobserver.com
Translation by Zheng Qian)