The high school entrance examination in China has boosted the sales of nutritious foodstuffs. Data from Dingdong Maicai, which translates as Dingdong Buying Vegetables, shows that the sales of fish and prawns, which parents believe help foster mental activity, have increased significantly around the examination period.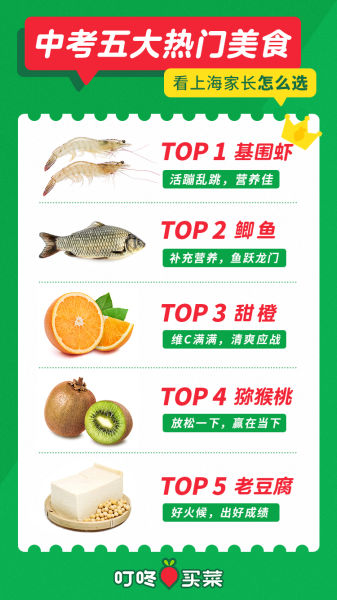 Greasyback shrimp, the star product, has seen its biggest daily sales amount in Shanghai exceeding 5 tons, a month-on-month increase of more than 58%. Crucian fish purchased from their place of origin have grown by more than 43% and 2.8 tons were sold on the opening day of the examination. The vogue of crucian fish has also uplifted the sales of tofu, as they are commonly eaten together, with a north Suzhou tofu product reaping a daily sales amount of 2.3 tons.
"The temperature and oxygen content of water for aquatic products are measured by professional apparatus to ensure the quality of fish and prawns," said a person from Dingdong Maicai. In addition, the company has creatively adopted aerobic distribution boxes to deliver aquatic products so as to make sure the fish are alive within the normal maximum delivery time of 29 minutes after customers make an order on their cellphone.
Besides high protein food, vitamins are also favored by parents. Fruits rich in vitamins such as kiwis and oranges are the first choices.