At a gathering of Chinese and Jewish people in Shanghai on May 17, a 17-year-old singer attracted many people's attention when she debuted her original song We Can be the Universe, which was greeted by thunderous applause.
The young Jewish singer Sevi Ettinger's new song is a new version in production and musical arrangement of her song Universe which was released last year.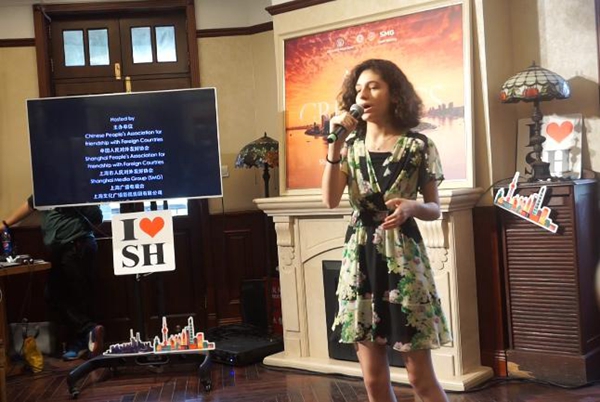 Sevi sings her self-written song We Can be the Universe at the gathering event on May 17. [Photo/ Eastday]
From performing inmusicals, to singing and writing songs, Sevi's passion for music has been with her since the age of 3. Born in Virginia, Sevi moved to Shanghai with her family in 2012 where she is a high-school student.
Her song writing career began at the age of 14 when she wrote her first song Salty Water, which was finished in one hour using an App on her smart phone and a backing track she heard online that was composed by a musician in Texas, Nate McCray. Sevi did not think many people would hear her song, but it ended up being heard by a famous singer and song writer from the United States living in Shanghai, Phillip Jarrell. Finally, with the help of Jarrell, the song was released.
Over the years, Sevi has been teaming up with more and more musicians and producing a series of works. In her words, she doesn't really usually know what the song is going to be or should be about until she faces the microphone and sings whatever she thinks and wants to say.
Regarding the song We Can be the Universe, she said,"I didn't quite know what the song was going to be about when I first wrote it. But when COVID-19 hit the world, I realized that this song was a necessary one to sing. One of my lyrics is,"we can be the universe... only if we try." It became clear that this song was supposed to be a message of unity. If we all come together as one, we can be bigger than ourselves. We can be the universe."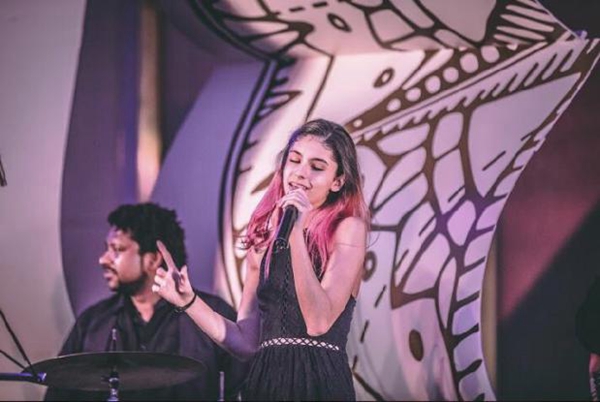 Sevi performs at 2018 AmCham Ball, a ball combining entertainment with charity. [Photo provided by the interviewee]
Almost from writing her first song Salty Water, Sevi has been combining her love for music with charity work, using her voice to reach those without one. Her most recent performance for the Shanghai People's Association for Friendship with Foreign Countries (SPAFFC) was another example of her sharing her voice in efforts to bring the Jewish and Chinese community together.
"Singing 'Universe'for this event was such an honor. As a Jewish person who has lived in Shanghai for many years, it felt special seeing the two cultures I am very much in touch with come together through my performance,"said Sevi.
For her, it was a very unique opportunity."This was the first performance I have done for a Jewish event, but I look forward to using my voice to help bring together these two cultures in the future."
Most of Sevi's performances have been in China but she often goes back to the US to record. Earlier this year, Sevi teamed up with multi-platinum producer, David Kershenbaum (Tracy Chapman, Duran Duran, Bryan Adams) to work on new recordings. She hopes to release these songs soon.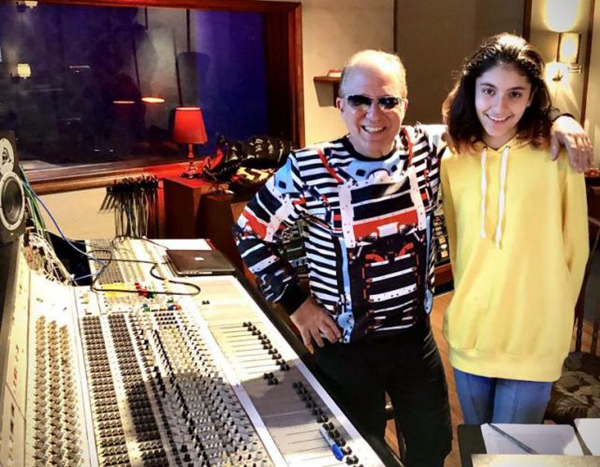 Sevi Ettinger with David Kershenbaum, an American producer, in a studio in Los Angeles. [Photo provided by the interviewee]
For her, life in China has been the most valuable part of her life and exerted great influence on her work. Sevi said that at first she only sang and wrote songs to express her own feelings and emotions, but over time she realized that it can also bring people together."As someone who has lived in China for seven years and loves the Chinese culture, language, and people, I want to continue to make my music heard here."
"I'm grateful for the opportunity I have had to live in Shanghai. The city has given me so many opportunities to thrive."
In the future, Sevi hopes to engage with the Chinese language through her music, potentially performing more songs in Mandarin.