A mini IKEA store is officially opened to the public in Shanghai's bustling Jing'an district on July 23, making it the first store opened in Shanghai's city center.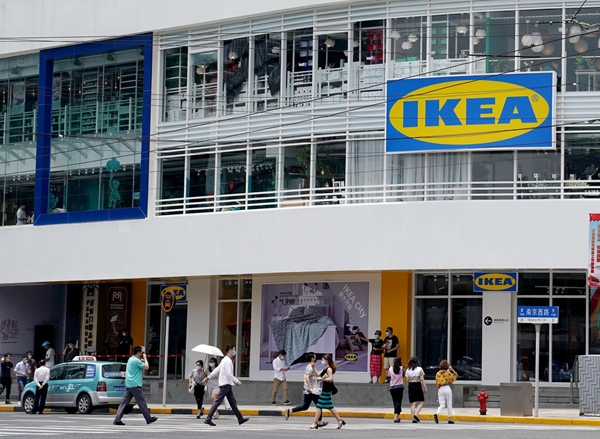 Located at 1728, West Nanjing Road, the Ikea Jing'an city store covers an area of only 3,000 square meters, much smaller than the average IKEA store size of 28,000 square meters, but the three floors provide all varieties of services and facilities. There are about 3,500 items displayed in the store, among which 1,200 items can be taken away by customers immediately after payment. The rest of the items can be booked on Ikea's official website and will be delivered to customers'houses by a unified supplier. The delivery fee will remain the same no matter whether the item is purchased online or offline.

A QR code is next to each product and by scanning the code with their cellphones customers can view the items online and also browse some recommendations. Ipads are also offered in some particular show rooms in the store with the same function.
The brand-new IKEA Jing'an City Store has also upgraded its food section. Customers can buy various kinds of dishes at the first floor in its food market where unique western dishes such as hot dogs and meat ball pasta and hot dogs with salmon are provided besides its 2-yuan ice cream.
Ikea has chosen to open this first downtown store to adapt to the changes in customer buying behaviour. "Ikea always hopes to provide a more convenient, flexible and diversified shopping experience for Chinese consumers that can satisfy their demand", said Francois Bronte, vice president of Ikea China.

In fact, similar IKEA mini downtown stores have already been opened overseas. Such stores show IKEA adapting to the modern retailing environment where stores act more like showrooms for products bought largely online. The downtown location makes that showroom easier to access, especially for those without a car.
Right now the IKEA Jing'an city store targets mainly office workers nearby and offers a comfortable social space for them to relax. In the future, cooking lessons as well as lectures on bedroom products will be provided soon for Ikea's members.