The opening ceremony of 2020 Music In The Summer Air (MISA) was held in Shanghai on July 20th.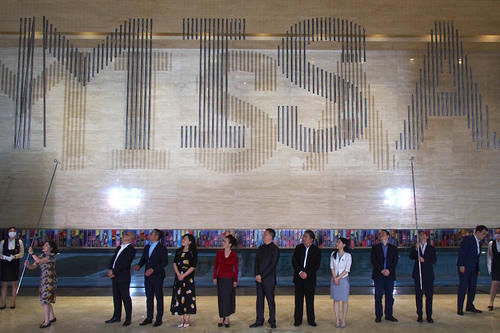 In the following ten days, 21 concerts will be performed at the concert hall of the Shanghai Symphony Orchestra and Shanghai Urban Music Lawn.
At the opening ceremony, the Shanghai Symphony Orchestra, conducted by music director Yu Long, performed "The swan of Tuonela" and "Valse Triste" by J. Sibelius,"The Firebird" by Igor Fedorovitch Stravinsky, and "Quiet Night Thoughts" as well as "The Goddess of Mountain" with Gonglinna.
Before the show, Yu Long said to the audience,"It is quite difficult for MISA to take place this year under the special circumstances. Thank you all for coming and we will provide the best performances since music is the soul's remedy."
The new combination of symphony with new folk music has been a highlight at the ceremony. The two songs performed by Gong Linna, a Chinese singer who is widely known for both her efforts in preserving traditional Chinese song forms and in furthering the development of New Chinese Art Music, expressed the beauty of both Chinese poetry as well as folk songs and dramas. On July 22, she will perform a traditional folk song in Shanghai."I've been trying to innovate new forms of music during the last decade while still keeping true to the roots oftraditional Chinese music. I hope that Ican perform great pieces of music that combinesinging skills and profoundthoughts forthe audience", she said.
In order to provide a better experience for the audience, shows will be performed twice by the same performers in one night. The opening ceremony was both performed at 7 p.m.and 9 p.m.last night. The audience could choose whether to have dinner before or after the show. Also, during the two performances, a fair was held selling all kinds of music-related products such as tiny percussion instruments, vinyl records, T-shirts and sculptures. People could visit it without tickets, attracting a lot of visitors.
All the performances this year at MISA will be broadcastonline.. Besides the shows, two new music education programsare also available online. One is an interactive online course called "Finding Mozart"which helps people learn how to compose music by providing users with basic knowledge about rhythms, melody and music structures;The other is an online competitionwhere people worldwide canuploadvideos of themselves playing "Jasmine". The winner(s)willhave the chance toperform this song with the Shanghai Symphony Orchestra's chief quartet at the online MISA concert.
MISA is celebrating its first decade of operation, first having been held in 2010."We hope that in the following decade MISA will continue to be energetic and unafraid of changes. Meanwhile it will also provide more opportunities for talented young musicians to perform onstage. We are looking forward toMISAone day becomingacradle of young musicians all around the globe", said Zhouping, the head of the Shanghai Symphony Orchestra.