At 6:30am each morning, long queues have formed at a senior citizen canteen on West Yanchang Road, Putuo District. On the price list, people can see 15 kinds of breakfast choices: a steamed bun is between 0.8 and 1.8 yuan, a spiced salt pancake sells at 1.5 yuan, a shumai (also known as "siu mai") is 1.2 yuan.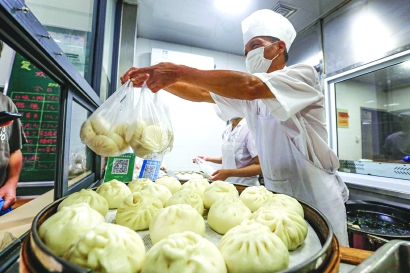 (Photo by Zhang Yichen/whb.cn)
Though tucked in a corner of a residential area, it is a popular canteen. Each morning, around 1,000 pork steamed buns are sold.
The popularity of the canteen is not an accident.
As the city's first year-round canteen for senior citizens, the Zhangjiaxiang Senior Citizen Canteen has been running for more than 12 years. Rain or shine, it offers meals for elderly people in the community. Around 300 senior citizens in the community can get freshly-made meals on their doorsteps. Starting from 2015, it began to offer breakfast options, for the better convenience of senior citizens living alone.
The canteen also features a customized service system. Nutrition is prioritised for the sake of elderly people's health, and volunteers will keep in mind some people's unique eating habits. For example, some people are vegetarians on specific days, which will also be taken into consideration by the canteen. Lectures on health and nutrition will also be organized for the senior citizens.
Community catering services for senior citizens were enlisted as municipal projects by the Shanghai government in 2008, alongside other elderly care services. A total of 815 places offering meals for senior citizens had been established by the end of 2017, benefiting around 80,000 people, according to the city's civil affairs bureau. It is also reported that by the end of 2020, there will be 1,200 places offering meals for senior citizens.