On a Thursday evening, stay-at-home dad Liu Hongwei took his daughter with him and drove downtown. He had an important activity to attend.
Wang Ao and her friend, "manzai" performers in their spare time, were also on the subway.
At the same time, Guo Qingdan, with the art name Ye So, just finished his work. He set off from Pudong for the same destination.
All these people's destination on each Thursday evening is a small theater in town, which is a land for stand-up comedy lovers. It is late at night when the performances end, but both the performers and audience are enjoying themselves.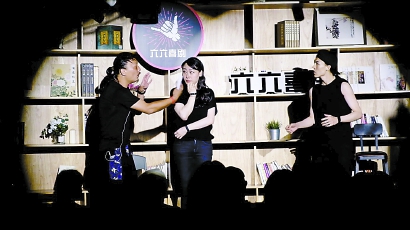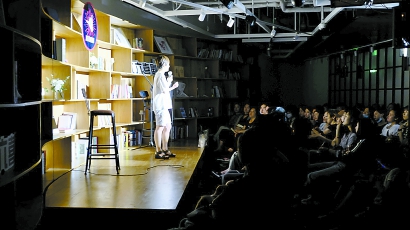 (Photos by Huang Jianjian/Jiefang Daily)
With the epidemic currently well controlled, open mic shows have begun to spring up in the city's cafes, restaurants and bars. Each stand-up comedy performer has six minutes to share their story on the stage. With a microphone, they stand alone and do their best to entertain the audience.
Open mic shows are not rare in Shanghai. In the second half of this year, tickets of eight open mic shows are available online.
Because of the relatively low threshold to entry, people from all walks of life can perform on an open mic stage. There is a young lady from Northeast China working in Shanghai. There is an IT staffer born and raised in Shanghai. Some of them are English teachers and some used to be directors. You can also meet a professional comedian and a magician-turned-comedian.
Apart from being fond of stand-up comedy, they share another similarity: they like laughing, which is as infectious for them as it is for their audience, and which can be amplified by the limelight.
In China, stand-up comedy used to be more popular in the North, and then developed in the Southern part of the country. In the post-epidemic era, depressed emotions need to be released. As such, many theater operators have introduced stand-up comedy performances.
For many performers, Shanghai means a bigger stage and more opportunities. For theaters and bars, open mic shows have become a method of self-rescue during a time when most operational activities are suspended, as stand-up comedy has a lower demand for the venue.