Themed around peace, unity, coexistence and fighting the pandemic, the 3rd International Children's Animation and Manga Exhibition has started submission online.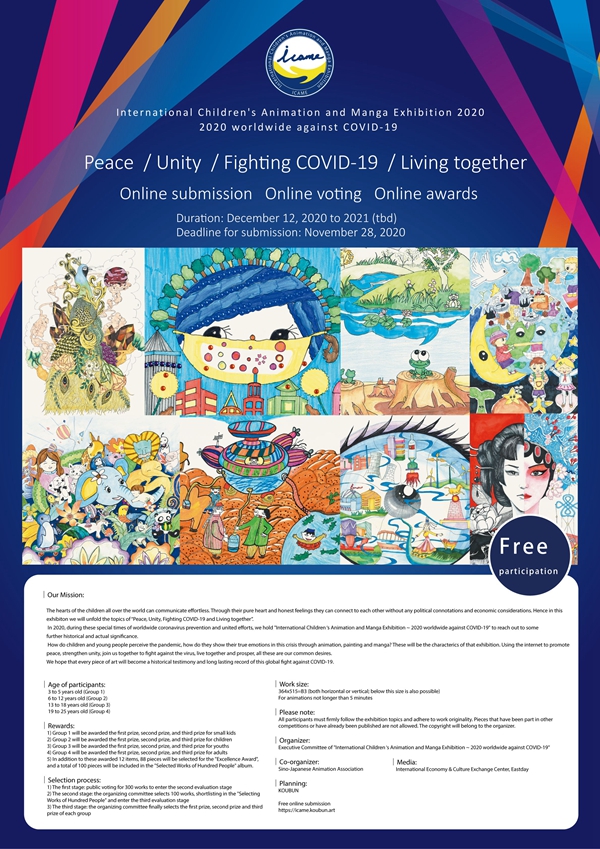 Since the globe has been overwhelmed by the coronavirus pandemic, the exhibition aims to present the love and warmth people have shown in the anti-pandemic period through children's animation and manga paintings.
A voting and award ceremony will also be held online before the display. Koubun, the curator, said that he hopes that love and goodness will be spread across nations through such an international exhibition.

Free online submission begins in September 2020. https://icame.koubun.art.
3 to 5 years old (Group 1)
6 to 12 years old (Group 2)
13 to 18 years old (Group 3)
19 to 25 years old (Group 4)
364* 515= B3 (both horizontal or vertical; below this size is also possible)
For animations not longer than 5 minutes
Executive Committee of "The 3rd International Children's Animation and Manga Exhibition ~ 2020 worldwide against COVID-19"
Sino-Japanese Animation Association
International Economy & Culture Exchange Center, Eastday