The 2020 Green Carpet Fashion Awards were held on October 10 in Shanghai Center, the tallest building in China. Activities included a press conference and panel discussion, green carpet gala dinner, and the sustainable fashion awards ceremony.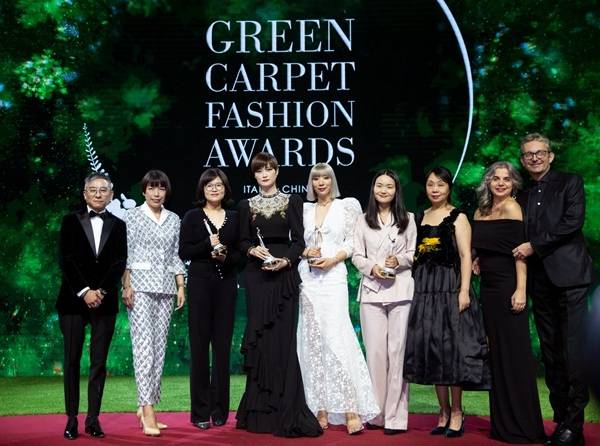 (Prize winners of the 2020 Green Carpet Awards pose for a photo.)
Being the world's first award encouraging sustainable brand development in the fashion industry, jointly organized by the Italian National Fashion Chamber (CNMI) and the sustainable brand consulting company Eco-Age, it has captivated the attention of the fashion industry with its concept of sustainability and environmental protection. This year, with the exclusive Chinese partner APAX Group, the Green Carpet Fashion Awards was introduced in China for the first time, during Shanghai Fashion Week.
Themed around togetherness and rebirth, this year's extraordinary edition advocates weaving the new thread of our society, under the principles of social and environmental justice, and spreading the concept from Italy to the whole world.
Ten awards were announced at the press conference, among which five were presented on stage in Shanghai.
Mr. Carlo Capasa, chairman of the Italian National Fashion Chamber, and Ms. Livia Firth, creative director of Eco Age, a sustainable brand consulting company, gave a speech via live stream at the press conference.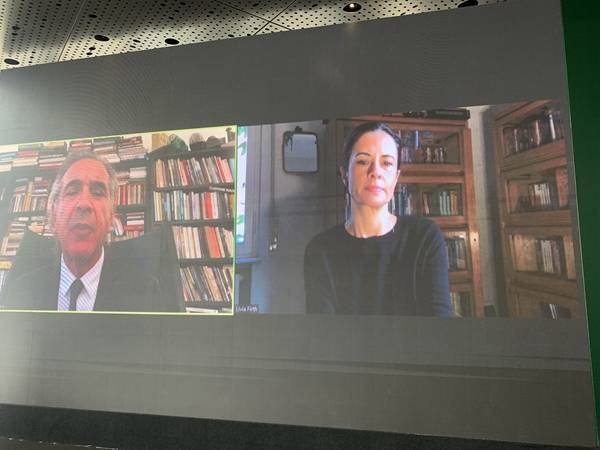 (Carlo Capasa and Livia Firth give a speech at the press conference.)
"The Green Carpet Fashion Awards is of great significance to China on the occasion of the 50th anniversary of the establishment of diplomatic relations between China and Italy. It will further increase the exchanges, cooperation and deep friendship between Italy and China when promoting the sustainable development of fashion," said Carlo Capasa.
Hosted by Zoe Chen, chief representative of CNMI, the panel discussion featured the topic of sustainable fashion from the aspects of sustainability in a company's entire industry chain, the integration of sustainable concepts into teaching, and the challenges and solutions of sustainable fashion.
Michele Cecchi, consul general of Italy in Shanghai, said to Eastday that Italy has been looking to all occasions to promote fashion in China. Lots of Italian friends were represented in the China International Import Expo and will be present at this year's event too."China is the best partner in sustainability for Italy. And Shanghai and Milan are both fashion capitals which are linked by 40 years of sister cities relationship. So there is a strong and deep meaning in this event," said Mr. Cecchi.
In the view of Carlo Capasa, China's sustainability commitment is crucial because what happens in the Chinese supply chain has an impact on the whole value chain of fashion globally."China started only recently to talk about sustainability; however, I believe that they are now putting effort on it and I'm sure sustainability will have more relevance in the near future. That's why we decided to organize the first Green Carpet Awards in China ," said Mr. Capasa.