As this year marks the 70th anniversary of the establishment of diplomatic ties between China and Switzerland, Swiss Ambassador to China Bernardino Regazzoni paid a visit to Shanghai during the ongoing third CIIE (China International Import Expo).

Over the past few days, accompanied by Swiss Consul General in Shanghai Olivier Zehnder, the ambassador visited the Swiss companies showcasing at the Expo and attended the Sino-Swiss Business event, sharing his views about the relations between the two countries as well as his opinions about how to build a sustainable future.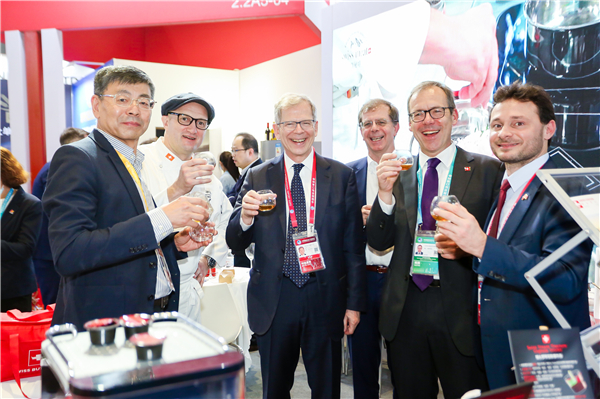 (Swiss Ambassador Bernardino Regazzoni visits CIIE 2020)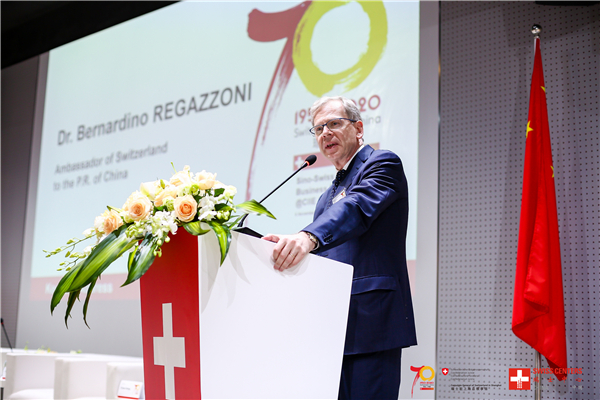 (Swiss Ambassador Bernardino Regazzoni attended the Sino-Swiss Business Reception @ CIIE 2020 on November 6)

Mr. Regazzoni is no stranger to Shanghai, but it is the first time for him to attend the CIIE in person. According to him, 2020 is a special year because of COVID-19, but the holding of the CIIE, for Switzerland, is a showcase of all that the country is doing in China. He has also taken note of the announcement by Chinese president Xi Jinping about creating the marketplace for the world and opening it to all. "That was an important announcement," he commented. "So we are here definitely to deepen our economic relation, to deepen our trade, and also beyond the CIIE, as governments to create the condition for the better access to the market."

Since China and Switzerland established diplomatic relations seven decades ago, many Swiss companies have become embedded in the Chinese market. One of the best examples, as Mr. Regazzoni told Eastday.com, is Swiss elevator maker Schindler which formed the first ever Sino-foreign industrial joint venture in 1980.

As for this year's CIIE taking place in Shanghai, around 50 companies from Switzerland participated, covering from food & agricultural products and medical equipment to IT, consumer goods and trade in services. To the delight of Mr. Regazzoni, apart from some Fortune 500 Swiss companies, many SMEs are also present at the trade show and he was very much impressed by the IT and innovation displayed by them.

"One has not to forget the importance of small and medium enterprises," he added. This is the backbone of the Swiss economy in Switzerland, but also in our foreign trade. Two thirds of our foreign trade is done by SMEs." He was also pleased to see that quite a few SMEs from Switzerland had settled down in China, making contributions to China in such fields as innovation and environmental protection.

On the sidelines of the CIIE, the ambassador once again stressed the significance of SMEs and their resilience of development in China when delivering a speech at a business event on November 6.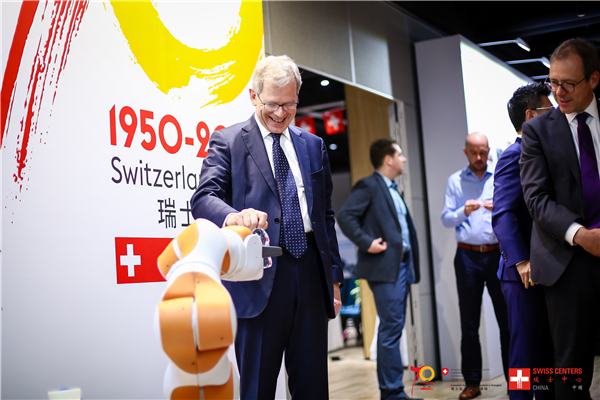 (Swiss Ambassador Bernardino Regazzoni interacts with a healthcare robot developed by a Swiss company in China)

Speaking of his outlook for future cooperation between China and Switzerland in the post-epidemic era, building a sustainable future is the biggest common challenge facing us, said Mr. Regazzoni. He said the most important lesson of this crisis may be how to prevent a crisis which can have the global impact. Especially, companies have to deal with our environment in a respectful way. As he has seen in some businesses' booths at the CIIE, there are some clever solutions in fields like electric vehicle and smart distribution of energy.

China is the third largest trading partner of export-oriented Switzerland. It is also expected to be the only major economy to achieve positive growth in 2020 under the impact of the epidemic according to IMF estimates. Mr. Regazzoni believes this is good news for Switzerland, which has direct access to the Chinese market through a free trade agreement. Also, it is good to have a locomotive running from China to Europe which, through its own growth, can also draw global growth.

(Photos provided by the Swiss Consulate General in Shanghai)