During the CIIE 2020, which took place right after China rolled out a new roadmap for economic development called "dual circulation", heads of foreign companies shared their insights about the new economic development pattern.

Some of the senior managers of global giants could not make it to China because of the travel restrictions due to the COVID-19 pandemic, but they talked to the media through online interviews and looked forward to coming to Shanghai in person for the next CIIE.

"We really welcome the dual circulation policy because we have always been a company that has invested in China. We don't fear losing market share because we believe competition will be a function of how well you compete and understand the Chinese market and the Chinese consumer," said Dow's Asia Pacific President Jon Penrice. Greater China is now the company's second largest market.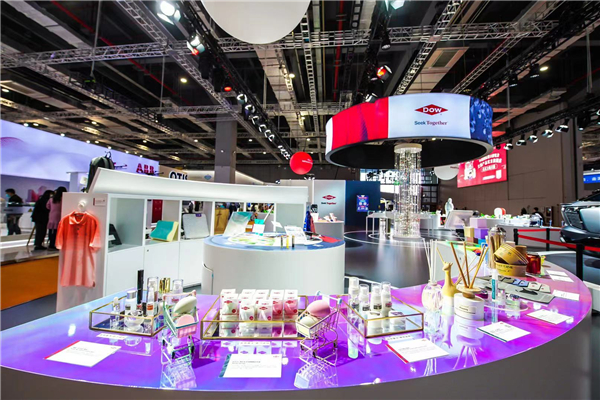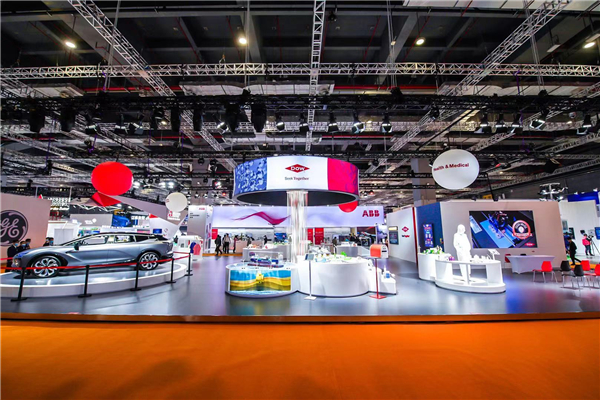 (Booth of Dow at the CIIE 2020)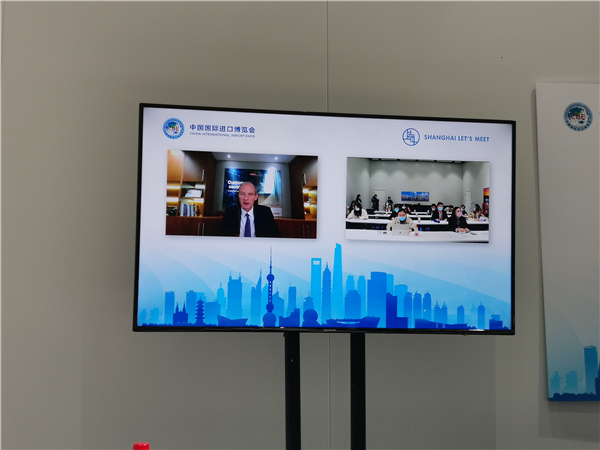 (Jon Penrice in an online interview with Chinese media on November 9)

"With our experience in China, we intend to understand the market and then make products for that market," added Mr. Penrice.

For Suan Teck Kin, head of Global Economics and Markets Research at United Overseas Bank, dual circulation has created opportunities for global trade and investment.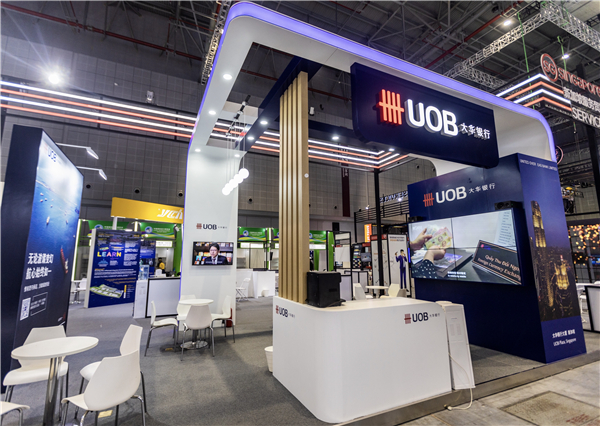 (Booth of UOB at the CIIE 2020)

On one hand, the inner circulation will result in a greater middle-income population, which for foreign banks like UOB is an opportunity to provide more financial services such as wealth management and asset allocation. On the other hand, as Suan Teck Kin said, the interaction between China's domestic economic links with the outside world (referring to the external circulation) can involve the cross-border flow of capital and services, so that, for instance, UOB can better serve Chinese companies in importing goods from other countries. One example is UOB's cooperation with Hengfeng Bank launched in August—UOB Hengfeng One-Stop Trade Services—to facilitate trade between China and ASEAN countries through mutual credit support, reciprocal treatment in cost concession, and customer resource sharing.

(Suan Teck Kin in an online interview with Chinese media on November 9)

Mr. Suan also mentioned a report of UOB titled "China: 14th 5-Year Plan (2021-2025) and Long-Range Objectives Through the Year 2035", which says, "the dual circulation strategy will be pursued in the next 5 years as China leads the global recovery from the COVID-19 pandemic, by leveraging its economic size, growth, and increased opening of its own market."

At the same time, multinational pharma company Novo Nordisk has made its commitment to further investing in China. On November 7, it signed a strategic cooperation agreement with the Lin-gang New Area of the Shanghai Pilot Free Trade Zone, where they will be investing 200 million RMB into their newly founded legal entity Novo Nordisk (Shanghai) Pharma Trading. The CIIE is a very strong opportunity for Novo Nordisk to expand its business in China, commented president and CEO Lars Fruergaard Jørgensen. The Fortune 500 company has attended the annual trade show for three consecutive years and plans to keep participating in the next three years.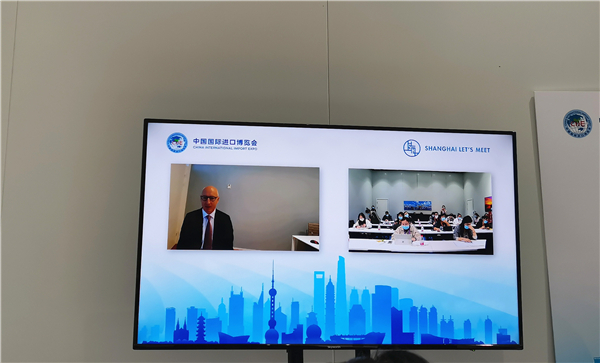 (Lars Fruergaard Jørgensen in an online interview with Chinese media on November 9)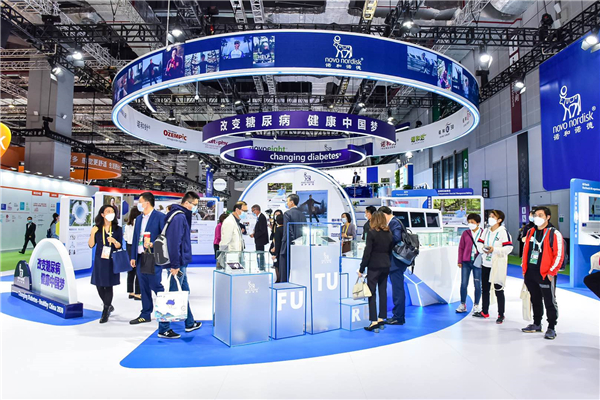 (Booth of Novo Nordisk at the CIIE 2020)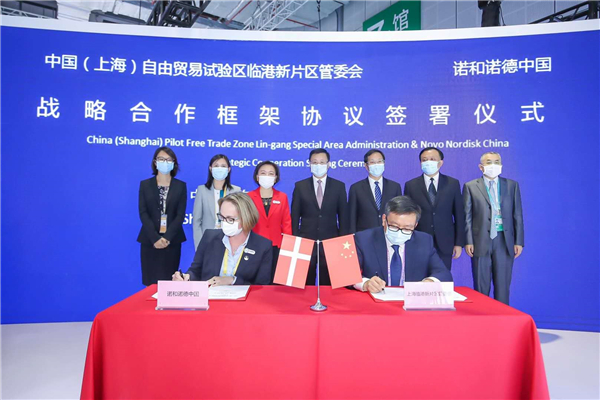 (Strategic cooperation signed between Lin-gang New Area and Novo Nordisk China)

Another piece of good news from Novo Nordisk for Chinese patients is that on November 5, the company upgraded its China Essentials program (which aims to integrate China into Novo Nordisk's global clinical development program) to version 2.0, a signal of its accelerated pace of introducing and developing more innovative medicine in China.

"I'm very pleased with the policy of the Chinese government to encourage global companies to launch products in China to catch up with other leading international countries," said Lars Fruergaard Jørgensen. "With stronger intellectual property rights in China, we are very encouraged to bring our innovation to China among the first markets in the world."

(Photos courtesy of Dow, UOB and Novo Nordisk)