A special exhibition of the World Press opened in the Shanghai Jiushi Art Museum on November 15, showing 92 winning works in the nature and environment categories from the 2018- 2020 World Press Photo Competition.
First organized by the World Press Photo Foundation in 1957, the global contest, known as the "Oscars" of world press photography, has seen tens of thousands of photographs every year entering.
The 2020 competition attracted 4282 photographers, including 521 from China, to submit their works. The works at this Shanghai show especially depict the latest environmental problems like the threat of global warming, garbage management and the influence of human's activities on the environment and animals.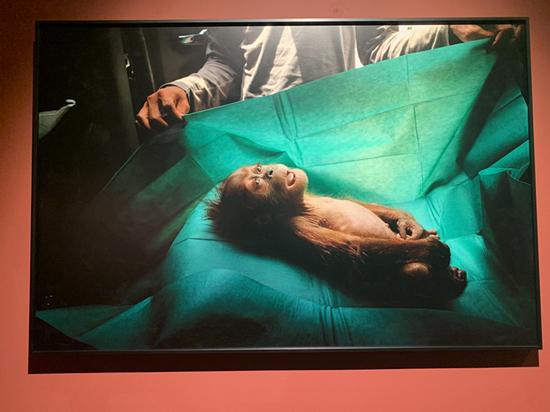 The first prize for a single photo in the nature category is a thought-provoking work by Belgian photographer Alan Schroeder. In the photo, a one-month-old orangutan lies on a green surgical drape with its eyes wide open. The baby orangutan and his mother had been found by rescuers in a palm oil plantation near the town of Brusaram in Sumatra, Indonesia, not long before they both died. The mother orangutan, shot for eating fruit from villagers' orchard, was completely blind with a broken collarbone and 74 airgun wounds on her body when being found.
"It's unbelievable that people can do this. I actually met a semi-wild orangutan mother with her baby in the Sumatran jungle. She was the gentlest creature you could imagine," said Ben Keegan, after seeing the winning photo.
The exhibition is the third one in 2020 opened by the Shanghai museum, via which the museum hopes to boost international art communication and allow Shanghai citizens to enjoy exquisite global artworks on their doorstep.