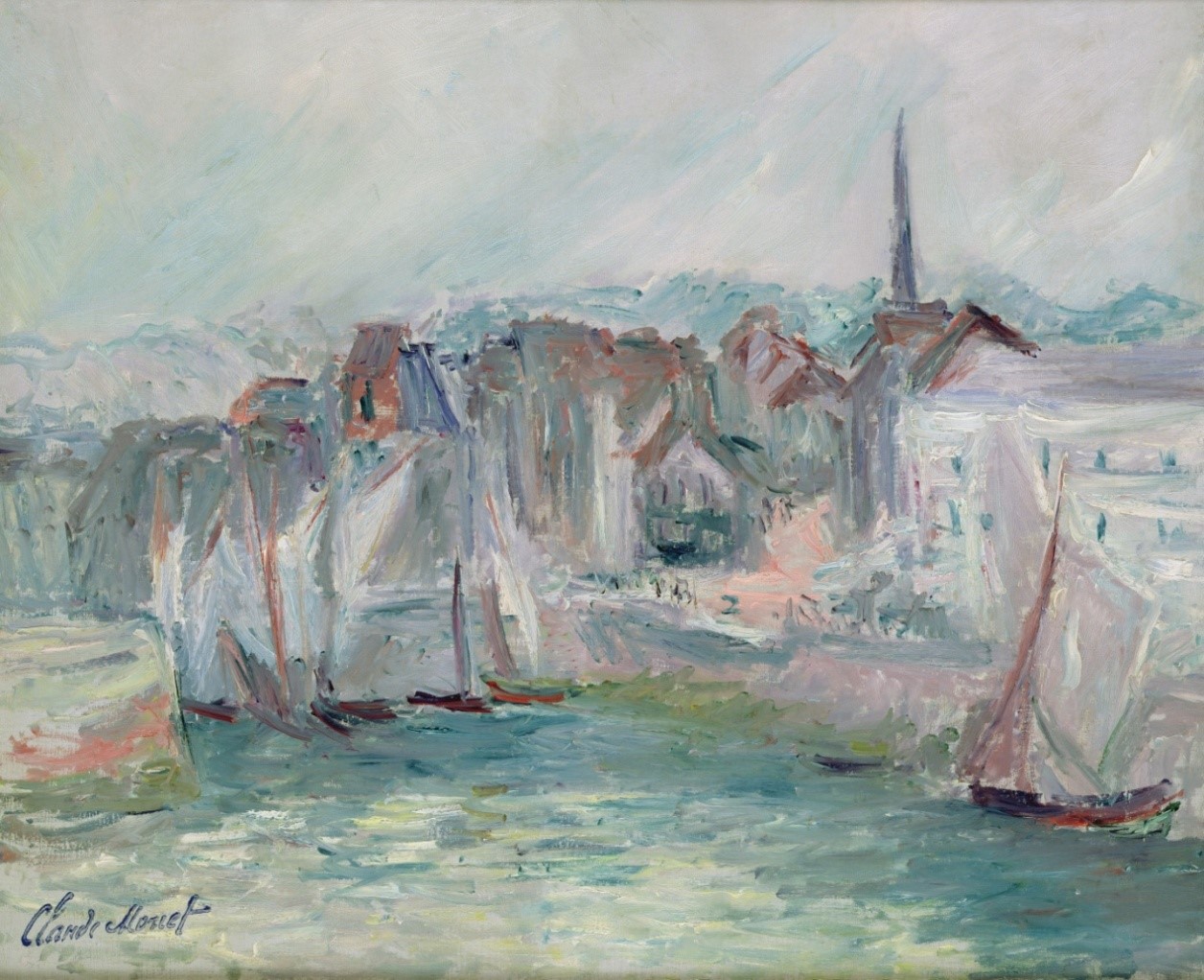 Boats in the Port of Honfleur, 1917

By Claude Monet
Oil on canvas
50 x 61 cm
On October 10, 1917, Claude Monet wrote a letter to his broker José and Gaston Bernan, informing them he could not sketch outdoors because of the wind and that he would "take a break": "We plan to leave today, passing Honfleur-Le Havre, and then follow the coast to Dieppe. I am asking for about 10-15 days off." In fact, he didn't leave until November 15th and returned on the 29th.
Since the spring of 1915, when a huge studio tailor-made for large decorative paintings of water lilies was finally completed, Monet had been completely occupied by this project. He knew that the Normandy coast, which he was familiar with and was a bit like his home, was a place where he could take a rest. To people's surprise, on his journey along the coast, Monet created two paintings of the Port of Honfleur despite being immersed in his classic painting project of irises and water lilies.
Monet's Port of Honfleur paintings bring us back to 1896 and the old aquatic themes that had occupied him.Curiously, except for his two paintings of Giverny's residence, prior to this Ports of Honfleur work he had not painted any architectural landscapes for nine years from his Venice trip in 1908 to 1917.
How should we interpret the painting? Monet wanted to try his skills again, or to see if he had the ability to present distant horizon scenery? Or was it just a pure desire, once again irresistibly wanting to grasp a subject that had been engraved in his heart? The latter explanation is most likely to be true. If painting is never an easy task for mere mortals, then for someone as skilled as Monet, it can also be a simple pleasure, and this "Boats in the Port of Honfleur" is a proof.
If the brushwork of this work is different from the iris or water lily paintings of the same period, it is because of the different theme. In Honfleur, what Monet needed to deal with was the facade of the houses and the arrangement of the sails. The brushwork changes from dealing with the natural contours of flowers to horizontal and more structural painting, though the whole picture is overwhelmed with the ivory-white color.
What makes the work special is that he used planes to open up the depth of the space, from the water surface in the foreground to the distant, flawless sky, very similar to another Port of Honfleur work collected in a gallery in Saarbrücken, Germany. These two works together became the consummate paintings of Monet outside of Giverny, where the water lilies were painted. This alone makes these two works extremely precious today.