China has entered the ranks of the most developed mobile communications markets, said GSMA (Global System for Mobile Communications Association) in a newly-released report.
According to the 2021 China Mobile Economic Development Report, the number of mobile services subscribers had reached 1.22 billion at the end of 2020, accounting for 83% of the national population. Compared with the global average (66%), China has become one of the most developed mobile communications markets.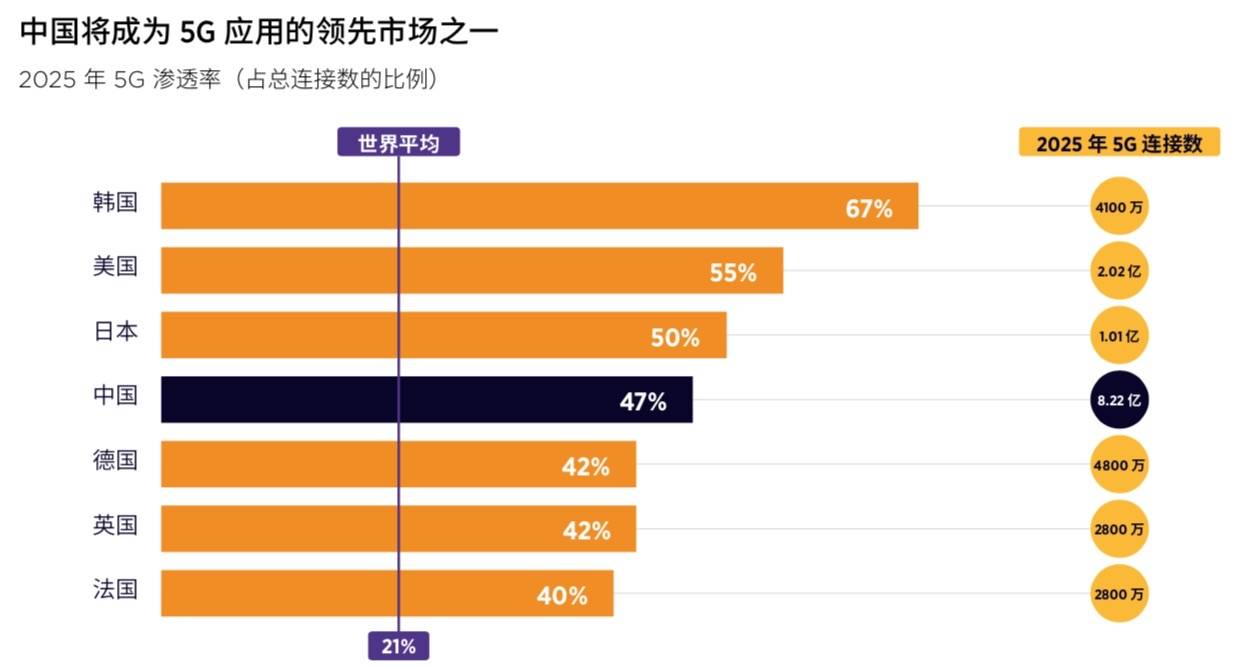 (China will become a leading market in 5G application by 2025.)
More than 990 million people in China are now using mobile Internet services, and the number is expected to increase by another 200 million by 2025, says the report.
Over the past year, the COVID-19 epidemic has had a significant influence on the mobile traffic. Especially in the beginning of 2020, the duration of mobile Internet usage soared to 7.3 hours per user per day, more than one hour longer than before the coronavirus outbreak, mainly because more daily activities like work, study and shopping went online. The epidemic has also sped up the usage of digital financial services. A survey conducted by GSMA shows that around 46% of smartphone users make a non-contact mobile payment at least once per week.
The report also predicts that by 2026, the average traffic of mobile Internet will reach 39GB per user per month, a great increase from 10.35 GB per user per month in 2020. In the meantime, an additional 340 million smart phones will be connected to mobile Internet by 2025, and the usage rate of mobile Internet in China will hit 90% by then.
(By 2026, China's mobile traffic will be 3.5 times higher, while North America will see an increase of 4.2 times and West Europe 4.1 times.)
It is also indicated by the GSMA report that China is becoming the world's manufacturing center of smart phones. The country now boasts a host of well-known phone makers such as Huawei, Oppo, Xiaomi, and Realme. What's more, over the past five years, China's original equipment manufacturers have been expanding their market shares in more areas across the world.
Though the domestic smartphone shipments are expected to drop by 20% in 2020, according to CAICT (China Academy of Information and Communications Technology), the production level of phone makers has so far returned to a normal state. Coupled with the emergence of low- and middle-end 5G mobile phones, 5G application in China and the world at large will see a rise.